The Canadian Government Is Demanding More Canadian Porn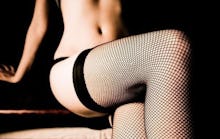 Canada's porn industry isn't Canadian enough, claims the Canadian Radio-television and Telecommunications Commission.
On Wednesday the CRTC warned AOV Adult Movie Channel, XXX Action Clips and Maleflixxx that they weren't reaching the 35% threshold for Canadian-produced content — which comes to about eight and a half hours a day. Now all three channels will have to come to a hearing on April 28, where they will be questioned on their lack of compliance (and not in a sexy way). Channel Zero, the Toronto-based owner of the three channels, has previously insisted that the lack of Canadian content was a clerical error.
The company is also being cited for failing to adequately close-caption its content, which it is required to do like any other type of programming.
The CRTC didn't issue statistics on the origin of the porn being displayed across Canada's living rooms, bedrooms, boudoirs and dungeons, but presumably much of it is American — just another export of the U.S.' still-booming cultural industry. Toronto-based porn filming is thriving, with enough Canadian pornography to fill 50% of Edmonton-based channel Northern Peaks' schedule and 100% of Vanessa, Montreal's "only 100% Canadian adult entertainment channel."
The regulator's move has some people scratching their heads, like the Globe and Mail's Kate Taylor, who suggests that "porn is a generic product whose national origins are as unimportant as those of a light bulb or a vibrator." Or laughing, like Global News, which suggested that "Canada's broadcast regulator wants to hear a few more ehs along with the oohs and ahs."
But it's a huge industry, taking in hundreds of millions of dollars out of the worldwide pot of $57 billion. And while Canadian rates are much lower (a boy-girl scene starts at $600 for the actors, while L.A. rates begin at $1,000) it still supports major corporations and a large number of workers. It's debatable whether Canada has a valid interest in policing the amount of original Canadian content that goes on the airwaves, but so long as they're going to do so, it makes sense to treat porn and its makers the same as any other industry.