7 Beautiful Things About New York City That Are Threatened by Gentrification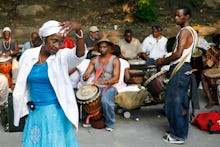 During a lecture at Brooklyn's Pratt Institute last month, American director and producer Spike Lee took on the big issue of gentrification in New York City. Although it was heavy on the cursing, Spike's rant revealed an important truth about the patterns of gentrification in neighborhoods like Fort Greene, where he grew up. In recent years, an influx of wealthy, predominantly white residents has led to considerable improvements in safety, sanitation and schools, but gentrification isn't just an agent of positive change.
Throughout NYC, a hipster culture is replacing sites, sounds and experiences that once gave the city its eclectic character. In the video below, Spike attacks newcomers for destroying local street music scenes, suggesting that a rise in noise complaints is threatening outdoor drumming circles. According to an article in the New York Times, police have received 17 noise complaints from neighbors of Spike Lee's father, a jazz bassist who has lived in Fort Greene since 1963.
It can't be denied that gentrification has aesthetically and financially rescued dozens of neighborhoods — but at what cost? What sort of a culture are we losing and is it worth it?
Here are seven scenes from the old New York that gentrification could be wiped out for good:
1. The Drumming Circles at Marcus Garvey Park
Marcus Garvey Park in Harlem is home to the famous Marcus Garvey Drummers, whose various members have played in the park since 1969. Recently, the residents of 2002 Park Avenue, a new seven-story luxury co-op across the street, have joined together in opposition to the music group, complaining that the noise of the drums is too distracting. Since these complaints, the city's parks department has repeatedly relocated the Marcus Garvey Drummers.
2. Harlem Soul Food
As Harlem becomes increasingly gentrified, many of its famous soul food diners have gone out of business. Recently, historical restaurants such as 22 West, which Malcolm X once frequented, have been forced to close their doors because of competition with newer eateries. Although some residents are seeking to replace soul food with healthier options, regulars of 22 West and other soul food joints are undoubtedly saddened by the loss.
3. Harlem Jazz Clubs
Last year, the Lenox Lounge, where both Billie Holiday and Dizzy Gillespie once performed, was forced to close after long-time owner Alvin Reed could no longer afford the lease. Frequenters of the Lenox Lounge are devastated by the loss of this landmark spot, and they're understandably annoyed that it will soon be converted into an upscale sushi restaurant. Although neighborhoods like Harlem are benefiting from the wealth creation produced through gentrification, the jazz music scene could take a hit.
4. The Chelsea Hotel
In 2011, the Chelsea Hotel, built in 1873, was sold to developers for over $80 million. This legendary commune has housed the likes of Jackson Pollock, Bob Dylan, Andy Warhol and Patti Smith, but it's home to just a few remaining residents today, who are only allowed to stay until further notice.
5. Independently-Owned Bookstores
Local NYC bookstores are finding it difficult to make rent in increasingly gentrified neighborhoods. Gotham Book Mart in Midtown closed in 2006, largely because a Barnes & Noble opened up nearby.
6. The 'Laundromat'
Okay, so laundromats aren't the most beloved of storefronts, but their disappearance in many NYC neighborhoods is a sign of the larger trend of gentrification as a shift to more full-service operations takes hold.
7. The NYC Bodega
Soaring rent has led many mom and pop convenient stores to shut their doors. According to the Huffington Post, 137 bodegas closed on Broadway alone in 2008.
We'll miss old New York.