This 8-Year-Old Just Solved a Problem That the Federal Government Couldn't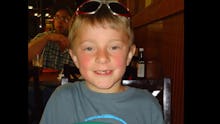 When 8-year-old Michigan boy Cayden Taipalus saw a fellow student at Challenger Elementary School get a crummy cheese sandwich for lunch instead of a hot meal, he knew he had to do something. So instead of letting his friend get a subpar meal, Cayden started a crowd-funding effort to pay for good lunches when his fellow students can't.
Over the past few weeks, Taipalus has raised around $25,000 to sponsor low-income students' delinquent lunch accounts at school via FundRazr, which has led to about 8,000 reduced-price hot lunches. What an amazing kid!
The Howell Public School District P.R. director, Tom Gould, defended the school's lunch policy.
"Like a lot of districts, we use accounts where parents add money to their students' accounts," he said. "While that's happening we work with the parents to resolve that balance. It's a relatively rare situation that we don't make contact with the parents in that window."
"Cayden's efforts are very generous and we're proud of him for that. No one in our district would ever go hungry if they didn't have money on that account."
But underwhelming school lunches are aren't just a problem at Taipalus' school. Many school districts serve some sad fare, if these photos submitted to the Huffington Post are any indication. The USDA reports these meals aren't necessarily healthy, either, with many schools far exceeding sodium recommendations and less than a third staying below recommended fat content. The Fed Up With Lunch project has been collecting school lunch photos as well, documenting over 7,000 of the nation's lunches. The results were not inspiring:
But schools are in a difficult position; limited federal funding often barely pays for labor and overhead. The San Diego Unified School District, for example, has to make do with about $1 per child per meal — not very much at all. This graphic from California Watch explains how schools are struggling:
In the meantime, while the government tries to figure this whole mess out, you can donate to Taipaulus' campaign here.