America's Deadliest Fraternity Has Just Banned Pledging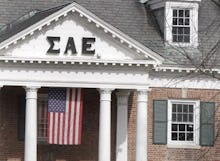 After earning the infamous title of "deadliest frat" in America, Sigma Alpha Epsilon (SAE) has decided to leave its disreputable history behind with a surprising move: the group's national council announced on Friday that it will ban pledging once and for all.
Billed as the "True Gentleman Experience," the new pledge tenure will provide "a holistic educational period in which members learn about the Fraternity's values, mission, creed and history and develop personally over the course of their collegiate tenure."
Since 2006, at least 10 deaths have been attributed to SAE's intense drinking culture and months-long initiation period. According to reports, new recruits were forced not only to drink unsafe amounts of liquor, but to participate in often dangerous challenges: at one chapter, pledged were "starved and secluded in a basement for hours, forced to drink after being confined for so long, forced to dress like women, paddled, and repeatedly verbally abused with homophobic slurs."
And there have been consequences for the frat's "Tarantino film"-like antics as well. According to Bloomberg, controversy and backlash have also forced at least 15 college chapters to close down in the last three years. SAE has had to pay the highest liability insurance of any Greek organization in the country, and it is also facing a $25 million pending suit for the wrongful death of a Cornell fraternity member.
Image Credit: Bloomberg
But while the announcement may seem like a move in the right direction, SAE is still far from accepting blame for the recent string of pledge deaths. On its website, it explains that the reason behind getting rid of pledging is to "realign the Fraternity to produce the original member's experience that our Founding Fathers envisioned."
In fact, the announcement does not even mention the pledge deaths except in the FAQ section all the way at the bottom. There, it brings up the "bad publicity" and the "attack on our image."
"At the same time, we have experienced a number of incidents and deaths, events with consequences that have never been consistent with our membership experience. Furthermore, we have endured a painful number of chapter closings as a result of hazing."
There is not a hint of remorse in this statement, only regret concerning the negative impact the deaths have had on SAE. Rather than acknowledging the tragedy of its pledge deaths, SAE provides a pragmatic rationale for its decision: the "damage to our national reputation is making it difficult for [chapters] to operate."
SAE is now one of only 75 national fraternities to eliminate pledging. The practice remains popular — and dangerous — in many other colleges: more than 60 students have suffered fraternity-related deaths since 2005. And in spite of its dubious reasoning, SAE wants to make it easier for other big frats to stop pledging as well.
"And now is the time to lead the way among Greek-letter organizations. As a result, we may very well turn bad publicity into a positive, proactive image."
The new policy will officially take effect on Mar. 9.
Correction: A previous version of this story cited the death of a Cornell pledge, George Desdunes. That man was not a pledge, but rather a brother who died during a pledging event.