11 SXSW Superstars That Are About to Be Household Names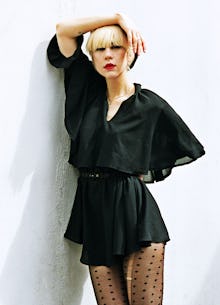 For all intents and purposes, bubblegum boy band Hanson, Girls star Lena Dunham and social networking app Foursquare have nothing to do with each other. But they do share an origin: All three were rocketed to fame at South by Southwest (SXSW) in Austin, Texas.
The event that first started in 1987 as a grassroots music festival has since ballooned into an enormously profitable multi-day showcase of music, film and technology startups. If you go to the right events, you can see the future at SXSW, which is a kind of world's fair for 21st century America.
Given its ever-expanding popularity and scope, SXSW has become as known for its crowds, price of admission and excessive number of parties as it is for being a platform where deserving startups and artists can debut their work. But there are a few shooting stars at this year's fest who, soon, will be household names:
1. Kelis
Remember Kelis, the R&B singer whose milkshake brought all the boys to the yard? 
She's back at SXSW, is serving up actual food from a food truck, and is promoting her latest album FOOD, which will be released next month and features several mouth-watering tracks such as "Friday Fish Fry" and "Biscuits 'n Gravy." Her latest single, "Jerk Ribs," features an eclectic mix of instruments and an alluring, husky voice we never knew she had.
It's a brand new Kelis with an infinitely better song than "Milkshake" let on. But she's still singing about food. And, really, it seems like her career as a chef is about to take off.
2. CUPID (Chaotic Unmanned Personal Intercept Drone)
Don't be fooled by the name. CUPID, designed by Austin-based company Chaotic Moon Studios, is a copter-drone that can shoot out a barbed 80,000-volt taser (for reference, the average voltage of tasers carried by police are 50,000 volts). It debuted at SXSW this week and is about as far a cry from Hanson or Kelis' milkshakes as one could ask.
Its creator is enthusiastic about CUPID's practical applications, which include fending off intruders, and suggests the technology is nearly ready to use. Drone technology is a growing field and these guys will likely be big players.
The future is now, and we're scared.
3. Zachary Wigon's 'The Heart Machine'
Every once in a while, a tiny, limited-release film can generate Oscar-level buzz, like last year's prize-winning Short Term 12. John Gallagher Jr. (best known perhaps for his role as affable producer Jim Harper on HBO's Newsroom) returns this year in The Heart Machine, written and directed by film critic Zachary Wigon, who offers a portrait of modern love. This is a Kickstarter-funded project with big ambitions.
Gallagher plays a man who begins dating someone exclusively on the Internet. His girlfriend supposedly lives in Berlin, so it takes awhile for them to meet. But when they do, he begins to suspect she's been in New York all along. Wigon's exploration of the course of a relationship in an increasingly connected age is sure to strike a chord with the SXSW audience.
4. Angel Olsen
Angel Olsen's sophomore album Burn Your Fire for No Witness came out just last month, and it's charmingly folksy, daringly electric and brimming with sharp writing — a rarity these days.
"Are you lonely too? Hi-five, so am I," she sings directly to her listeners. Olsen is signed to Jagjaguwar, the indie label best known for Bon Iver's For Emma, Forever Ago, and soon she should be as big.
5. Hozier
Irish singer-songwriter Andrew Hozier-Byrne's 2013 song "Take Me to Church" attracted a great deal of attention due to its accompanying music video, which depicts a happy relationship between two gay men and its subsequent destruction by a violently homophobic community.
Hozier has an impressive vocal range, and if "Take Me to Church" is any indication of what is to come, a fearless lyricist.
6. Wearable Solar
A fairly substantial category at SXSW Interactive is "wearable" technology start-ups. One tiny but notable company is Wearable Solar, a Netherlands-based team helmed by fashion designer Pauline van Dongen that aims to create truly wearable clothing made with small solar cells that can charge a cellphone.
According to their website, a solar dress or coat, when worn in full sunlight for two hours, can store enough energy to charge a typical smartphone. Dying phones are increasingly common and increasingly annoying, and we could all always use better fashion. Be on the look out.
7. Charlie Lyne's 'Beyond Clueless'
Teen movies are not usually critical darlings, but the genre is lucrative, its longevity undeniable and its films endlessly quotable (just think 2004's Mean Girls, or the '90s classics Clueless and 10 Things I Hate About You).
Now, there's a brilliant movie to summarize the history of teen cinema. Journalist and blogger Charlie Lyne will premier his documentary Beyond Clueless, a project funded on Kickstarter, at SXSW this week. It's sure to catch the eye of both lovers and critics of the genre.
8. Jungle
The enigmatic London-based electronic funk duo (and art collective) Jungle makes its U.S. debut at this year's SXSW. For years, "T" and "J" of Jungle have been baffling music journalists and bloggers. In their odd but popular videos and interviews, they give up some tidbits about themselves but say much more to confuse and obscure their identities and backstories.
Their latest, "Busy Earnin'," from the all-too-short four-song EP The Heat, lives up to the (partly self-generated) hype, and they're looking like one of the biggest rising stars of the fest.
9. Dum Dum Girls
American rock band Dum Dum Girls, led by frontwoman Dee Dee Penny, has been around since 2008 but they never completely broke through. Now, they are back at SXSW with a vengeance.
"Lost Boys and Girls Club," from the recent album Too True, is part synth and part rock guitar; part punk and part pop. It has shed its garage band rumble for a more mature sound that in no way diminishes their songwriting.
10. Jon Favreau's 'Chef'
Lena Dunham's career in film and television took off after Tiny Furniture — a movie about post-grad woes and artistic ambitions — won the juried narrative film prize at SXSW in 2010. This year's film festival opened with screenwriter Jon Favreau's self-directed and acted foodie picture Chef, which also features the likes of Dustin Hoffmann, Scarlett Johansson, Robert Downey Jr. and Sofia Vergara. (The film is one of several bigger-name pictures, like Veronica Mars.) 
Unlike Dunham's star turn, Favreau's return to his indie roots hasn't been so roundly praised. But with a cast like that, it'll be a big deal when it reaches wide release this May.
11. Nacho Vigalondo's 'Open Windows'
Open Windows is Spanish director Nacho Vigalondo's third film, but it is his first English-language film.
The thriller stars Elijah Wood, a hapless webmaster of a young celebrity's website, who scores a date with her through an online contest but is then drawn into a terrifying smear campaign against the starlet that involves a web of live video feeds. Hailed as "Rear Window for the digital age," Vigalondo's film unabashedly warns us about us about the dangers of Internet over-exposure. With Julian Assange skyping in to this year's festival, and Edward Snowden appearing by video on a live panel, the film will no doubt will make waves beyond SXSW.