The Next Big TV Show Will Be Based Off Of a Facebook Page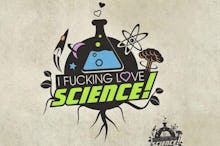 The news, and you'll probably love this: On Saturday, late-night host/ comedian Craig Ferguson made the announcement at tech fair South by Southwest that he would be producing a new show: I Fucking Love Science. 
The show is inspired by the Facebook page of the same name, which has more than 10 million likes and has become a social media sensation over the last few years. The page often promotes interesting, flashy, awe-inspiring science news, and packages it in a simple way that Facebook users can engage with. Memes and glossy photos are the nucleus of the page's success. The show will focus on mind-blowing science and will feature a mix of live-action, animation and recreations in each 60-minute episode.
"Think of it as a late night Google search that goes a hundred pages deep until things get weird," Ferguson said.
It's brilliant that a TV show would be based after a popular Facebook page: The fans have already been curated, the type of content that works and goes viral has already been determined. What Ferguson will do with the new show will be to simply translate what has succeeded on Facebook into an hour-long broadcast. The proven virality of the content on Facebook means that the show will likely be a similar hit on-air. Boom.
Why do people go gaga about I Fucking Love Science? The page is the perfect example of the type of content people consume on Facebook: It has a positive spin on news that is otherwise neglected or hard to follow in mainstream media outlets; it is edgy and fun; and it taps into a social identity of a large group of people. Facebook is all about these communities. Users see the meme, identify with it, click that little LIKE button, and then share that meme with their friends.
That cascading effect then pushes the page into viral status, accumulating more and more followers.
The I Fucking Love Science page is expected to grow to a whopping 14 million likes by the end of the year. Page creator Elise Andrews explains what originally inspired her: "I was always finding bizarre facts and cool pictures and one day I decided to create somewhere to put them – it was never supposed to be more than me posting to a few dozen of my friends." After the first day of being on Facebook, the page had over 1,000 likes, and passed 1 million likes in September 2012.
I Fucking Love Science is scheduled to air late this year. 
Editor's Note: This story has been updated to remove language that was used without attribution to the Mary Sue. We apologize to our readers for this violation of our basic editorial standards. Mic has put in place new mechanisms, including plagiarism detection software, to ensure that this does not happen in the future.