Where Should You Live Abroad? A Guide for Budding Expats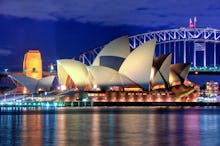 For many, the expat lifestyle is the only way to live.
Out of the country, traveling with a backpack, making money, escaping the homeland or killing time until "real life" kicks in are just some of the reasons Americans have been lured to foreign locations around the globe. And whether the image that comes to your mind is Johnny Tequila living on the beach in Baja California, a clean-cut business person overlooking the sprawl of Tokyo in a top floor apartment or simply that 20-something barista who "just got back" from teaching English in Thailand, it's undeniable that we all have some connection to an expat American.
Americans are moving out.
Over the past few years, more and more young Americans have been going to foreign countries. In 2011, the number of Americans between the ages of 25 and 34 living abroad surged from barely 1% to over 5.1%. And according to a report from the U.S. Department of State, 6.3 million Americans are currently living abroad in another country. That's like the entire state of Massachusetts up and leaving for greener pastures.
Critics call this millennial migration the sign of a "lost generation," while others see the blurring of borders as a sign of the new globalized society. With growing numbers of Americans choosing to stay abroad anywhere from one year to a lifetime, here's where those in need of a change of scenery should consider going, and why. 
1. For the eager entrepreneur: China
Pass the dumplings! China has everything an expat could want: a large population of Americans, one of the strongest economies around and a welcoming vibe. With many young Americans heading out to teach English and young professionals looking to the marketing and advertising opportunities, China remains a magnet for Americans looking to go abroad and stay there (especially when you factor in 69% of expats report more disposable income).
China ranked number one in HSBC's 2013 "Expat Explorer Survey," and the country has received top marks for the quality of life and employment opportunities its provides expats living within its borders. 
2. For those in desperate need of work-life balance: Indonesia
Indonesia may seem somewhat off the radar in the West, but if you find yourself in Asia, this popular vacation destination is a great place to hang your hat. Expatriates in Indonesia earn some serious money (around 22% of expats take home $250,000 annually), and the cost of living is low. Plus, the weather is always warm, the food is always good and the culture is vibrant.
Expats in Indonesia are often a varied mix of English teachers, diplomats, corporate workers and aid/NGO workers in more rural areas of the country. According to the Washington Post and HSBC, Indonesia (along with China) offers the best quality of life for expats looking to live abroad. 
3. For the family-oriented: Singapore
Singapore is a clean, efficient center for business that is home to many happy expats. Singapore rests on the southern tip of Malaysia and has easy access to emerging markets in Indonesia. 
While the cost of living is high, the country makes up for it by being a great place to raise a family in the heart of Southeast Asia. In fact, many expats report that the quality of education ad childcare is better than in their home countries.
4. For the (current, wealthy) business mogul: Hong Kong
Like Singapore, Hong Kong is a popular expat destination with a great economy and ties to markets in many other Asian countries, including mainland China.
It has one of the highest expat populations in all of Asia, but be prepared to shell out some major cash to live here; the rent is about double that of Singapore — in fact, it's the highest for any city in the world.
5. For the (future) business mogul: Japan and Korea
Image Credit: Adam Hogue
Nothing beats the the fermented ginger and cabbage of Northeast Asia.
Japan remains a big draw for businesses by continuing to build some of the world's best cars and electronics, with names like Honda, Toyota, Sony and Canon. According to a CBS report, American businesses continue to send people over to ensure a hand in the quality products Japan is producing, despite being an expensive place to live.
Just across the East Sea from Japan lies Korea, which also has been a strong draw to American businesses (Samsung, LG, Kia and Hyundai are all based in and around the bustling metropolis of Seoul). With a lower cost of living than Japan, Korea is a rising haven for expats looking for comfortable place to live overseas. Both countries also attract large populations of expat English teachers for public and private schools as well. The downside? Both can be a little inaccessible in the first year, but with patience you'll feel right at home. 
Be sure to try the kimchi.
6. For the partiers, publishers and bratwurst lovers: Germany
While around 1 million Americans live in Northeast and Southeast Asia combined, the Association of Americans Resident Overseas (AARO) reports that around 1.6 million call Europe their home away from home. And Germany tops the list of European destinations.
Germanys economy held together through the recession and it emerged as a hub for science, technology and child-rearing. The Guardian even reports a vibrant publishing industry! So pack your bags. Expats (and there are a lot of them) report enough disposable income for all the beer, brätwurst and brezel they can eat. 
7. For anyone who's scared of culture shock: United Kingdom
The U.K. is often the first place U.S. companies will post employees when expanding overseas, so it is no wonder that so many Americans are living and working there. The culture is very similar to that of the U.S., and we share a common language, making the hurdle of "culture shock" practically nonexistent compared to places in Asia or the Middle East.
Despite ranking among the "worse" countries in terms of quality of life for expats, the U.K. remains a business hub. And where there is business, there will be international commerce — and Americans. Not to mention the U.K. — and the rest of Western Europe — is where the vast majority of college students go for the "abroad" experience with less tea more Jager.
8. For the techie — or teacher: Turkey
With 81% of expats reporting that they're happy with their life in Turkey, it must be doing something right. The country boasts one of the best economies for expats, and is a growing center for financial services and tech startups with a lower cost of living than in the U.S.
English teaching, in higher education as well as through private contracting, is another very popular occupation. And with a gorgeous city like Istanbul to live in, more Americans should add Turkey to their list.
9. For the outdoorsman: Australia
Along with China, Australia tops many expat lists of dream destinations. CBS and HSBC both cite Australia as a comfortable place to live and work, with a comparable lifestyle to that in America. Often referred to as a "fun, sporty and outgoing place," Australia seems to attract people on its atmosphere alone.
Its ample land and less ample people makes Australia ideal for farms. Crops grow abundantly and, due to a recent mining boom in Perth, so do manual labor jobs. Australia, like its smaller neighbor New Zealand, is an ideal place to live and work under the radar in exchange for an easy-going, no worries mate lifestyle. Overall, it's probably more of the floater/backpacker type who might gravitate slowly around the world before settling there to work small jobs and live the simple life.
10. For those who get homesick easily: Canada
While not often thought of as an especially exotic expat location, our neighbor to the north easily made HSBC's list (which takes experience, economics and raising children into consideration), hovering up in sixth place overall. (For those of you wondering, America ranked 12th.)
Canada's very open immigration policy coupled with companies such as Ford and General Motors operating in both nations allows employees to move seamlessly across the border and live rather easily on Canadian soil.