14 Powerful Photos Show a Side to Afghan Women That Americans Never See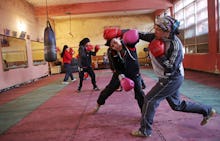 In the West's mainstream media, the images that depict women in Afghanistan are often oppressed, miserable and, more often than not, burqa-clad.
When talking about the war-torn country, people outside of Afghanistan hear stories of Afghan women living within their deeply conservative Taliban-controlled and tribal controlled cultures, suffering at the hands of the men in their lives, invisible under the powder blue cloth that covers them from head to toe. Take the photographs in this Slate article, which used photographs of women in burqas to illustrate life for women in Afghanistan, rather than the female poets that were actually the subjects of the article.
Of course, the "classic portrayal" of Afghan women is true in some cases, but it is still a one-dimensional view that fails to give us a real glimpse at the reality and experiences of women in the region. After all, a woman in a burqa is still a human being, and this flat portrayal of Afghan women often times helps us forget that.
Image Credit: AP. Afghan woman sewing a gown. 
Yes, many women still wear burqas after the U.S.-led invasion of Afghanistan in 2001. But Afghan women, burqas or not, deserve to be represented as the diverse group that they are.
These photographs capture and celebrate the many kinds of women that live in Afghanistan, that the media doesn't usually show you:  
1. Women in power
Adela Raz (L), Afghan President Hamid Karzai's deputy spokeswoman, speaks with an Afghan journalist at the Presidential Palace in Kabul, Oct. 12, 2013.
2. Colorful activism
An Afghan woman holds a portion of some 10,000 pink balloons handed out by artists and activists in Kabul, May 25, 2013. Each balloon contains a written message of peace. 
"This brings color to Afghanistan and I want to see my people smiling and happy," said 22-year-old Afghan volunteer Nargis Azaryun as she passed out the balloons. "We hope that by giving away 10,000 pink balloons, we will give this city 10,000 ideas of life beyond war."
3. Modeling in Kabul
An Afghan model practices wearing a dress creation by Shahar Banoo Zeerak, prior a fashion show in Kabul, Feb. 8, 2013.
4. A fashion show
Organized by a local Afghan group, the fashion show was a rare event but is seen as a step forward for women to break down barriers in the conservative country. 
5. Playing sports
Since 2001 Afghan women have been making their way into the international sports arena, competing in the Olympics, soccer, cricket and volleyball.
6. Photographers
Similar to the "Humans of New York" photography project, the "Humans of Kabul" project also aims to offer a glimpse into the lives of the people of Kabul.
One of the project's subjects, Sourya Afzali, is a student at the American University of Afghanistan.
"This is Afghanistan and I am an Afghan," said Afzali. "I feel like not all of us should leave! I was happy to get a scholarship from an American university, but it was a dream come true when I received a full scholarship from a private Afghan university."
"I believe that there is so much I can learn and do if I am in Afghanistan," she added. "I can volunteer, I can pass on what I learn, I can be an activist, I can protect rights, I can vote, I can develop a business, I can make the unheard voice heard."
7. Studying at university
Students walk through campus at the American University of Afghanistan. 
8. Competing in music competitions
"I'm here to make a difference for women,'' Afghan singer and The Voice of Afghanistan judge Aryana Sayeed, 28, said. "I want women to have rights, to talk freely, to walk freely, to be able to go shopping when they wish. I'm not saying that they have to take their clothes off, or even remove their head scarfs. Freedom is being able to live as a human being.''
9. Women in Kandahar
Photograph by Martien Van Asseldonk
10. Female pilot
Afghan Air Force 2nd Lt. Niloofar Rhmani made history in 2013 when she became the first woman to successfully complete undergraduate pilot training and become a pilot in more than 30 years. 
"It's my honor to serve my country and be the first female, and being an example for other females behind me," Rhmani said. 
11. Graffiti artists
"Women of Afghanistan have had to carry the greatest of burdens on their shoulders, and have always needed to be careful," said Shamsia Hassani, Afghanistan's first female graffiti artist. "I want to remind the world of what we've had to live through. I am making sure the cultural heritage of Afghanistan stays alive for the world to see." 
12. Female rappers
Sosan Firooz, Afghanistan's first female rapper, sings in a studio in Kabul.
13. In Afghanistan's army
Women from the first graduating class of the Afghan National Army Female Officer Candidate School stand for the playing of the national anthem during their graduation ceremony in Kabul, Sept. 23, 2010. 
14. Playing soccer
After coaching the Afghan national soccer team in national women's soccer team at a clinic in 2012, former U.S. Olympic soccer player Lorrie Fair said her Afghan students taught her more than she taught them.
"I can say that I'm definitely impressed," Fair said. "They're skilled, they're passionate. They're pretty courageous to even be here. If this country has a future, it's going to be in these women here, because they were pretty amazing."