Instead of Laughing at Lindsay, We Should Be Reprimanding Oprah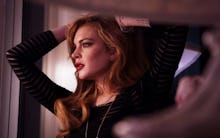 Millions of American living rooms bore witness to a lot of wine sloshing Sunday night, as people tuned in to the premiere of Lindsay — the new OWN docu-series that follows Lindsay Lohan's efforts to maintain her sobriety and reignite her career. Spearheaded by Oprah, the eight-part program is coursing with exploitative energy meant to boost the mogul's suffering, fledgling network — but, as much of the reaction to the premiere shows, it's doubtful Oprah ever intended for this show to actually do any good for Lohan at all.
Image Credit: OWN
The show's name alone sounds like the stuff great SNL sketches are made of, so it's no wonder that in the weeks leading up to the premiere the Internet buzzed about how entertaining Lindsay was sure to be. In anticipation of the episode, Perez Hilton posted, "Get your popcorn ready folks," along with links to several of Lohan's most defaming quotes. Oprah tweeted:
OWN's website for the show asked viewers to respond on social media with the insensitive prompt: "See what everyone is saying about Lindsay Lohan ..."
The show itself was everything anyone expected. We find Lindsay desirous of a European getaway to do yoga despite being fresh out of rehab. Oprah squashes that Kardashian-level idea but does not appear for the rest of the episode. Lindsay settles on moving back to New York to be closer to family and begins hunting for an apartment with her sober coach.
Lindsay bills itself as an "intimate, unflinching look into the life of one of the world's most sought-after celebrities," but that seems more like an excuse to film her sad and downtrodden times than a proclamation of good documentary filmmaking. Aside from Lohan's sober coach, and a few appearances by Oprah through the series to save face, Lindsay is managing to make Celebrity Rehab With Dr. Drew look like an earnest program. 
Oprah is using her pristine reputation and Lohan's desperation for a revived career to produce unsavory television without rebuke.
The press is already condemning last night's episode as lackluster. NY Daily News reported, "Reality TV fans and celebrity watchers have seen a lot worse than they saw Sunday night," suggesting that Lohan is unlikely to do anything as outrageous as anything we've already seen from her. That being the case, the show doesn't seem to be about helping Lohan at all, but rather harnessing her personal demons for the benefit of OWN's ratings before no one wants to hear about Lohan anymore.
The response to the premiere on Twitter has been mixed. Many are calling out the show for being reality taboo, saying things like:
Others are harsher with comments like:
There also was a surprisingly positive response with thousands tweeting messages of love and support, and many others simply stating that the show is worth watching. 
Oprah became invested in Lilo's health last August, when she was the only person to get a post-rehab interview with the star on her series Oprah's Next Chapter. The episode, during which a very slicked-back Lohan asserted that she'd only done cocaine "like 10 to 15 times," was a wild success. Celebrities like Steven Tyler and Russell Brand have opened up about addiction on the same show, but Lindsay's tell-all felt different. It wasn't a reflection on a past train wreck; we were watching the train still careening out of control. Given how hard Oprah pressed Lindsay about whether or not she'd been exploited by her parents, it's a wonder no one is asking that question of the media queen herself, having paid Lohan hard cash for the interview/series package deal.
Last Thursday Lohan told Jimmy Fallon, "I feel really lucky to be able to have worked with someone like Oprah ... She's become a really strong person for me to listen to and learn from in life." Of course Lohan feels that way though, because Oprah is the only person that would have even considered putting her on television last summer. 
Oprah isn't a monster, but it seems she's using her pristine reputation and Lohan's desperation for a revived career to produce unsavory television without rebuke. She is still a mogul, and watching Lindsay has made it very clear that Oprah is making Lohan a business investment and trying to finesse it to seem otherwise. 
So until we find out how Lindsay ends, let's at least hope that even despite the blatant exploitation, some of Oprah's classier qualities might rub off on America's tabloid darling.