If This Bill Passes, It Would Close SeaWorld's Shamu Stadium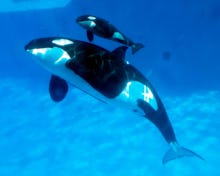 The news: Five months since CNN first aired the SeaWorld documentary Blackfish, the Oscar-shortlisted film continues to make waves. After a series of high-profile protests against SeaWorld for alleged mistreatment of its orcas, a Blackfish-inspired California legislator is now taking the fight to the next level: to free the orcas that are in captivity for human entertainment.
On Friday, Assemblyman Richard Bloom (D-Santa Monica) introduced a draft of the Orca Welfare and Safety Act to the California legislature, which would ban orca performances as well as breeding or transporting the animal across state lines. Existing orcas would be retired to sea pens or displayed for educational reasons.
"There is no justification for the continued captive display of orcas for entertainment purposes," Bloom said in a public statement. "These beautiful creatures are much too large and far too intelligent to be confined in small, concrete tanks for their entire lives. It is time to end the practice of keeping orcas captive for human amusement."
Why this is a big deal: California has the biggest captive orca population in the U.S., with 10 whales housed at SeaWorld's San Diego facility. While the proposed bill will only affect the California whales, it would become the first law concerning whales in captivity.
Bloom's press release added that the law was inspired by SeaWorld trainer Dawn Brancheau, who was killed in 2010 by the orca Tilikum after SeaWorld Orlando's "Dine With Shamu" show. Tilikum had previously been linked to the deaths of another trainer as well as a trespasser. Blackfish alleged that long-term captivity drove Tilikum to insanity, and that SeaWorld deliberately ignored the whale's history of violence.
In response, SeaWorld has called out the film for its accuracy and criticized Bloom for drafting the bill with the help of Blackfish director Gabriela Cowperthwaite.
"While we cannot comment on Assemblyman Bloom's proposed legislation until we see it, the individuals he has chosen to associate with for today's press conference are well known extreme animal rights activists, many of whom regularly campaign against SeaWorld and other accredited marine mammal parks and institutions," SeaWorld wrote in a statement.
Since the documentary first aired on CNN in October, there have been several high-profile protests against SeaWorld. Nearly 20 protesters were arrested in January for disrupting the SeaWorld float during the Roses Parade, including a 12-year-old girl. SeaWorld's inclusion in the Macy's Thanksgiving Parade was also heavily protested online. A Malibu elementary school canceled its annual SeaWorld trip after its students and parents voiced their concerns, and nearly every musical act at SeaWorld's "Bands, Blues & BBQ" spring concert series has canceled.