Watch Angel Haze Destroy Race and Sexuality Identity Boxes in Her Brand New Video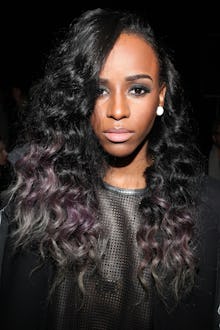 "I remember being asked a lot, by a lot of different writers, zines and shit, like, 'Why don't you incorporate your race, your ethnicity, where you've grown up, into your music? ... My identity is the music," Angel Haze says in the original spoken word intro to her song "A Tribe Called Red."
For awhile now, that's not an identity the media wants her to have. But now she has a bold new video that totally refocuses on her musical identity in spite of all the media frenzy she's inspired.
Haze could easily be boxed into any one category of identity she falls under: black, Native American, sexual assault survivor, woman, pansexual, rapper. Since she burst onto the scene, that's precisely what the media has been trying to do — even with the best intentions.
But this striking video puts Haze on full display and allows her to showcase herself as an artist. It's a beautifully shot piece, bold in its stark simplicity. The focus is entirely on Haze and her rapping.
Haze raps on with a truly impressive, quick flow, easily rivaling male counterparts like Eminem (whom she's covered). In the video she's wearing cool designer digs, from Yves Saint Laurent and Christian Dior to Alexander Wang and Doc Martens. Her tattoos are clear, with a long shot on a forearm tat of an Anne Frank quote, "Paper is more patient than people." This is a video about who Haze really is — her music — with no frills and no labels.
This is a song of empowerment, and watching Haze's badass performance is inspiring. She is taking control of her image and turning the focus to her talent and ability as a musician. The lyrics talk about powering through hardship to reach success, and the importance of self-empowerment: 
"Said I would give all these lost kids and doubters a reason and purpose to question their lives. Look where I am and then look where I've been, tell me that I ain't destined to win. Never give power to none of you cowards to tell me what you think my destiny is."
It's a bold statement from a rapper who knows who she is.