Amtrak Now Accepting Applications For Amazing New Program Giving Free Rides to Writers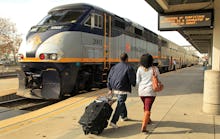 Writers rejoice! Applications for the first ever Amtrak Residency are now open. You can view the official entry form here.
The unique program is meant to inspire creativity, and will allow up to 24 lucky writers to compose their projects while enjoying the many luxuries of Amtrak's long-distance trains.  
This is a dream set up. The train is a normal part of many commutes, and, if other writers are anything like me, they regularly pass the time by staring out the window and thinking of new things to pen. But crowded cars and uncomfortable seats mean that work usually amounts to little more than some random scribbles. Just imagine the amount of work you could get done in a spacious sleeper car, with a bed and desk, sitting in a comfortable chair gazing at the sights of the world that pass by!
Image Credit: Mashable
Brilliant though it may be, Amtrak's new initiative began purely by chance. When asked in a PEN Ten interview about his favorite place to write, American poet and author Alexander Chee responded, "I still like a train best ... I wish Amtrak had residencies for writers." His remarks sparked a Twitter frenzy on the subject, and after seeing the wide support for the idea, Amtrak decided to seize the opportunity to turn it into a reality.
Interested in this little sabbatical? You should be! To get into the loop, follow Amtrak on Twitter, and become part of the #AmtrakResidency discussion. The program is accepting applicants from March 17, 2014 until March 31, 2015, so you'll have plenty of time to apply. And don't feel discouraged if you're not an established author of any sort — the program is designed for everyone, the only criteria for selection being a passion for writing and desire to travel with Amtrak.