How 'Girls' Successfully Overcame Its Race Problem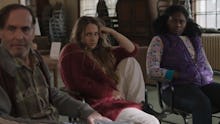 Since it debuted in 2012, HBO's Girls has been a lightning rod for criticism of the show's racial politics. In its first season, the Brooklyn-set show featured almost no characters of color, whitewashing the diversity that's a daily reality of New York. As Dodai Stewart's critique in Jezebel points out, the show's early attempts at racial inclusion weren't much better. "In the first episode, there was a minor character who was Asian (and good at Photoshop) and a cameo by a black man who appeared to be homeless," Stewart writes. In later episodes of the first season, Lena Dunham's Hannah encounters some sassy Latina co-workers who teach her how to do her eyebrows. During the second season, she briefly has a black boyfriend (Sandy, played by Community's Donald Glover), who calls her out for being kind of racist and then promptly leaves the show.
Glover's appearance on Girls was an attempt for Dunham to address the criticism that beleaguered the show's debut. However, it felt like an easy way out, like cashing in a Get Out of Jail Free card. In a piece for the Atlantic, Judy Berman argues the show would never get race right as long as Glover's Sandy remained a drop in the pond. "Sandy is still the only character of color who plays a substantial part in any of the season's first four episodes," Berman writs. "Despite the fact that Sandy at least occupies a similar social milieu to the characters, Dunham continues to cast non-white actors only when race defines their character — which is to say, she still doesn't get it."
Now in the show's third season, executive producer Judd Apatow has continued to drag his feet on the issue. This year's TCA panel was hijacked by a discussion of Dunham's pervasive nudity on the show, overshadowing Apatow's defensive comments on Girls' race problem. When asked why the show isn't more inclusive, Apatow responded, "I don't think that there's any reason why any show should feel an obligation to do that. I think there might be some obligation to have shows about all sorts of different people, but if it's organic to the show, then we should do it, and if we don't have story lines which serve it naturally, I don't think that we should do it."
But what's weird about the timing of Apatow's statement is that the third season has been organically inclusive in ways that don't distract from the narrative whatsoever. Throughout the third season, Girls has kept on being the same show, just one with a little more color in it. Nearly every episode has boasted a key role for an actor of color without tokenizing him or her or drawing attention to the fact that Girls is "fixing the problem." In fact, many viewers might not have even noticed. It's the ultimate rebuke to Apatow, showing that you don't have to sacrifice creativity or artistic vision to show characters whose experiences are outside your own. As Girls is in the middle of a creative renaissance, inclusivity might even make the show better.
Here are five times that Girls' third season proved diversity isn't that difficult.
1. Episode one: "Females Only"
In the third season premiere, Girls introduced Laura, a fellow patient at the rehab clinic Jessa suddenly found herself in. The character was played by Danielle Brooks of the buzzworthy Orange Is the New Black, a closet lesbian Jessa hooks up with during a Girl, Interrupted moment. Brooks' character was less a message about race or sexuality than Jessa's need to enact sociopathic carnage on all those around her. Even when the show is being inclusive, it's characters are as scathingly self-absorbed as ever.
2. Episode three: "She Said OK"
This episode finds Hannah celebrating her birthday, which leads to Marnie embarrassing herself on a karaoke stage while John Cameron Mitchell's now-departed character, David Pressler-Goings, gets in a bar fight with Ray. Amidst the chaos, Tako, the lesbian hipster the characters memorably met at a Bushwick party, returns. (The character is played by Mexican-American actress Roberta Colindrez.) The moment was an aside, but it's important that the show acknowledges that the characters of Girls would have acquaintances outside of those on the show. As Alyssa Rosenberg suggests in ThinkProgress, the characters' chosen universe might be myopically white, but that doesn't mean the world outside them reflects that.
3. Episode four: "Dead Inside"
The unexpected demise of David Pressler-Goings (not by Ray's hands, of course) forces the characters to come to terms with death, and Jessa contacts the mother of her deceased friend, Season, only to find out her friend faked her death to get away from Jessa. Jessa attempts to re-establish contact to confront Season about the lie, and Season (played by ubiquitous indie actress of Puerto Rican decent, Melonie Diaz) reminds her what a horrible person and enabler she was. Since she got away from Jessa, she has been able to build a life. The character's ethnicity is never brought up, because it's not important to the scene. Girls treats Season just like any other character, which means that a) she has a stupid name and b) Jessa is shitty to her.
4. Episode five: "Only Child"
At David's funeral, Hannah bullies his grieving wife (who was cool with the whole "her husband being gay" thing) into giving her the contact of another publisher to keep her book alive. The publisher agrees to meet with her and happens to be a high-powered black woman, played by actress Marsha Stephanie Blake. Blake's character is not defined by her skin, but by her job. The only problem is that her character does not have a name. IMDB credits her as "publisher." My advice to Dunham going forward: If you want to answer the criticism that your show marginalizes characters of color, you should probably be giving them all names.
5. Episodes six and eight: "Free Snacks" and "Incidentals"
Although "Beach House" includes the gay black Gerald, a friend of Elijah's (welcome back, Andrew Rannells!), he's likely a one-off and someone we'll never see again. The bigger step in the right direction is Karen (Jessica Williams), Hannah's GQ office mate. Aside from Glover, it's the first time the show has had a black character with a multi-episode arc, and unless Hannah does something stupid to get herself canned, we can assume she's here to stay. She's not here to call the characters on their bull or to prove a point, but rather to do her job. That's all we asked for all along.