The Most Anti-Abortion and Pro-Death Penalty States Have Something Baffling in Common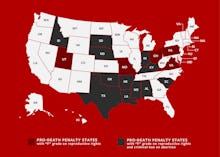 In the fight to restrict reproductive access, the anti-choice movement has taken its state-level assault to new heights, with more abortion restrictions enacted in the past two years than in the entire preceding decade. The anti-choice community markets itself as wanting to protect the life of the unborn and frequently equates abortion with murder. At the legislative level, this narrative takes the shape of restrictive measures whose goal is to make it nearly impossible to access reproductive health care, despite the constitutional protections afforded by Roe v. Wade.
The anti-choice community has made it clear that they're committed to protecting what they call the "right to life," yet 17 states that have passed the most restrictive measures in the country have yet to abolish the death penalty.
Image Credit: PolicyMic
In its most recent report, pro-choice organization NARAL Pro-Choice America has analyzed the policies of all 50 states, giving each region a ranking based on its reproductive rights track record. 
The NARAL 2014 Report Card on Women's Reproductive Rights also created a fact sheet linking the following pro-death penalty states with the toughest anti-choice laws to see where they made the grade on reproductive rights:
State
Criminal Ban on Abortion
Anti-choice Governor, Senate and House
Funds Crisis Pregnancy Centers
% of Counties with No Abortion Provider
Has a "Choose Life" License Plate Program
Grade
Oklahoma
Yes
Yes
No
96%
Yes
F
Indiana
Yes
Yes
No
95%
No
F
South Carolina
Yes*
No
No
93%
Yes
F
Alabama
Yes
Yes
No
93%
No
F
Texas
Yes
Yes
Yes
92%
No
F
Virginia
No
No
No
85%
No
F
Idaho
Yes
Yes
No
95%
No
F
Pennsylvania
No
No
Yes
82%
No
F
Ohio
No
Yes
Yes
91%
Yes
F
South Dakota
Yes*
Yes
No
98%
No
F
Nebraska
Yes
Yes
No
97%
No
F
Utah
No
Yes
No
97%
No
F
Kentucky
Yes*
No
No
98%
No
F
Missouri
No
No
Yes
97%
No
F
Arkansas
Yes
No
No
97%
Yes
F
Mississippi
Yes
Yes
No
99%
No
F
Louisiana
Yes
Yes
No
92%
Yes
F
*The criminal bans on abortion in these states are reported by NARAL as being unenforceable and unconstitutional. 
While the data speaks for itself, there is also a lot to be said about anti-choice laws that coexist in states that enforce the death penalty, specifically the five states (Oklahoma, South Carolina, Ohio, Arkansas and Louisiana) that use the "Choose Life" license plate program. In these states the conversation centers around the highly controversial line of reasoning that some lives are more worth protecting than others. The fact that our justice system has proven time and time again that it is a cruelly imperfect machine only adds to the potential for hypocrisy.
Since 1973, the same year that Roe v. Wade was decided, 144 death row inmates have been exonerated. While no system is foolproof, the death penalty is losing support among Americans, and data from 2009 shows that 88% of experts from criminological societies don't believe that the death penalty is a deterrent to murder. But if it's not really effective, why are states still using it?
The same question can be asked of states that enforce anti-choice laws. Restrictive measures won't put a full stop on abortions, which is exactly the message touted by the anti-choice community. Instead they will force people to unsafe abortions, the occurrence of which the World Health Organization calls a "preventable pandemic." It's estimated that globally, 42 million women have abortions each year, and half those procedures are obtained illegally. As NARAL reports, "[w]here abortion is illegal, the risk of complications and maternal mortality is high."
It's clear from this data that these 17 states are facing a conundrum when they enforce the death penalty and enact anti-choice laws. Either these states are confused about what the right to life really means, or the polarizing political climate is such that legislators can argue "pro-life" positions while simultaneously supporting death row executions without much thought to theoretical contradictions.