11 Beautiful Justin Vernon Songs That Prove He's Way More Than Just Bon Iver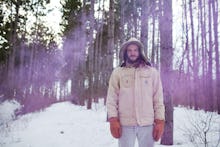 We may never hear new music from Bon Iver again. But although Justin Vernon is unlikely to return to his main project for a while, his fame has only grown since his last record, Bon Iver. From Bon Iver erotica to yesterday's Bon Iver politics, the world cannot get enough of Bon Iver — even when there isn't any more Bon Iver to get.
Fortunately, Vernon's talent for tugging heartstrings extends far beyond Bon Iver's two albums and lone EP. Since 2005, his signature huskiness and tasteful guitar playing have graced a variety of projects. Here are 11 tracks Vernon recorded outside of Bon Iver that prove he's one of the best songwriters going:
1. "Feels Like Home" by JD Vernon
At age 20, Vernon already had the voice together — even when he was singing songs about playing basketball at home. This artifact from that era showcases his typically twisty, almost improvisational melodies.
2. "Byegone" by Volcano Choir
Released just last year, this anthemic number probably sounds familiar to many a Bon Iver fan. Volcano Choir is a collaboration between Vernon and post-rock outfit Collections of Colonies of Bees. But on their newest album, Repave, Collections sounds like a full-fledged band reminiscent of Bon Iver's epic side (see: "Beth/Rest"), and a worthy next step in Vernon's similarly epic career.
3. "Gallup, NM" by The Shouting Matches
It may sound more conventional, but this mellow rocker from Vernon's blues-rock project is just as heartfelt. As a bonus, it's probably a better showcase for his guitar prowess than Bon Iver ever is.
4. "Silent Signs" by DeYarmond Edison
The members of DeYarmond Edison grew up together, and their intimate music shows it. It's easy to trace a line from gentle compositions like this to mellower Bon Iver moments — all that's missing is the falsetto.
5. "Island, IS" by Volcano Choir
Released back in 2009, the first Volcano Choir album sounds partially formed, using Vernon's voice as one component of an intricate soundscape. Yet the result is beautiful, and this glitchy track is no exception.
6. "House Call" by The Shouting Matches
The first Shouting Matches record, Mouthoil, finally got a national release in 2013. Of all the pre-Bon Iver records, this might be the most raw-sounding. Take, for example, "House Call," a simple duo number that sounds like a hazy, lo-fi take on a John Mayer tune.
7. "Hazelton" by Justin Vernon
Well, there you go. The overdubbed vocals on this rare solo release, recorded while Vernon was a member of DeYarmond Edison, act as definitive proof that he never needed anyone else to make gorgeous music.
8. "Dusty Road (So Kind)" by DeYarmond Edison
This track sounds like it was recorded in a living room somewhere, which actually adds to its rustic beauty. Vernon is great as usual, but the tasteful playing of the other band members, who later founded the freak-folk group Megafaun after parting ways with Vernon, is a true standout.
9. "Naked" by Travi$ Scott
So maybe he didn't write this one. But Vernon's heavily filtered vocals are the secret weapon of this gloomy track, which blends the typical Bon Iver melancholia with a hip-hop edge.
10. "Pier 39" by Justin Vernon
For every maximalist move he makes with Bon Iver and Volcano Choir, Vernon can, in turn, absolutely nail a stripped-down sound. See for yourself: The repeated piano chords of this early cut will stick with you just as long as "Perth."
11. "I'm In It" by Kanye West
This track is the odd man out. It's not a Vernon song, though he shares a writing credit. It's also not beautiful, at least in any traditional sense of the word. But it's still irresistible, and Vernon's haunting interlude in the song's final minute puts his indelible stamp on it.