Watch Obama's Hilarious Chat With Zach Galifianakis — The Prez Makes Some Great Jokes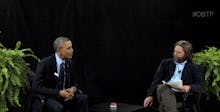 Infiltrating the bizarro, black-curtained space of Between Two Ferns, President Obama dropped a playful heathcare.gov plug into Zach Galifianakis's normally unhealthy, anti-social proceedings. Though the clip is pretty much one giant Obamacare commercial, it's still hilariously charming, and well-worth a watch:
Obama more than holds his own against Galifianakis in the verbal sparring match, trading heathcare.gov barbs ("Why did you get the guy who created the Zune to create your website?") with arch I'm-the-President gravitas ("I wouldn't be here with you today if I didn't have something to plug.").
And when Galifinakis laments that Obama can't run for office a third time, the President has the perfect response: "Actually I think it's a good idea. If I ran a third time it'd be sort of like doing a third Hangover movie. Didn't really work out very well did it?" Galifinakis is not amused.
Obama is a great sport overall, keeping his composure as Galifianakis peppers him with a slew of inane, rattling comments, ranging from concerns about Syria ("I read somewhere that you'd be sending Hulk Hogan to Syria, or is that more of a job for Tonya Harding?" ) to North "Ikea." Galifianakis also gets in a few political zingers. "Is this what they mean by drones?" he quips as Obama goes off on his heathcare.gov pitch.
Of course, this is a still a commercial. And in the one of the funniest, crypto-heathcare.gov moments, Galifianakis reveals his allegedly spider-bite-ridden hand to Obama, horrifying proof to POTUS that Galifianakis, like so many young people, could improve from visiting the Obamacare website:
"Zach, you need to get on healthcare.gov because that's one of the most disgusting things I've even seen."