Taylor Swift Is Showing Girls That All You Need Is a Best Friend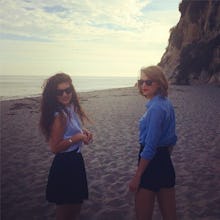 While songs about ex-boyfriends may have made her famous, music's biggest money maker has put romance on the back burner. These days, Taylor Swift is all about her friends.
Swift is seemingly best friends with every young female celebrity out there. A quick glance through her Twitter tells the story of road trips with model Karlie Kloss, Grammy selfies with Lorde and retweets of famous friend Lena Dunham. But there's more to it than friendship: Swift is setting an important example for women everywhere of what it looks like for women to support each other professionally.
Once ridiculed for her stream of boyfriends, Swift is setting a new, wonderful example. She's taking time to celebrate friendships squarely in the eyes of her over 39 million Twitter followers and over 8 million Instagram followers. The woman known for her super emotional romantic relationships is now one of the most visible proponents of another way of being in the world: keeping your girlfriends close no matter what and supporting them every way you can. 
People are noticing. The amount of FOMO created by pictures of Swift hanging out with Lorde or Lena Dunham is immeasurable. Female celebrity best friendships are now the relationships young women look up to. But in show business they represent supportive business partnerships just as much as they do personal intimacy. Just think of the fandom surrounding the friendship between Amy Poehler and Tina Fey. They're friends, but they've also helped each other succeed professionally by co-writing movies and co-hosting the Golden Globes.
Image Credit: AP
Of course, female friendships are nothing new. What is new, however, is the attention they're getting. In the era of Twitter and Instagram, famous women are in control of their own story — and, not so shockingly, friendship is a bigger part of that story than romance. 
Sadly, though, proof of the significance of this new narrative is mostly obvious from the backlash — just this Monday, Australian radio program the Kyle and Jackie O Show insinuated Lorde and Swift must be lesbians because they're so close. Women being great, supportive friends rather than competitors for a man's attention is just so shocking that they must be lesbians! As if genuine female friendship needs an explanation. As Rolling Stone reported, Swift giving Lorde roses wasn't scandalously romantic; it was the type of friendly gesture between two singers helping each other succeed in a man's world.
Actually, Swift's Instagram is sort of a PSA for female friendship. Swift's Valentine? Two band members and friends in the music studio. Swift's New Year's Eve kiss? Modern Family actress Sarah Hyland. And instead of asking Santa for a boyfriend, Swift was content celebrating a "Merry Swiftmas and Hailee New Year" with actress Hailee Steinfeld. Swift's 24th birthday party was a Melbourne garden party with friends. 
People are defined by their relationships. So when the champion of broken hearts begins to prioritize friends over love, people notice. Friendships are starting to overshadow celebrity romance as a woman's defining relationships. As Swift sings in her hit song "22" (it's also her Twitter description), right now she's "Happy. Free. Confused. Lonely. At the same time." And the ones helping her through it are the ones who are around after the heartbreak to make the music videos together — her friends.