Listen to Lorde Perfectly Shut Down an Interviewer Asking if Taylor Swift Is Her Girlfriend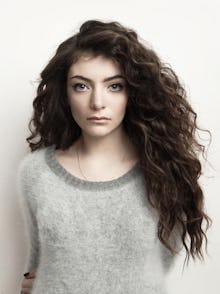 In her megahit "Royals," Lorde sings about driving Cadillacs in her dreams. Unfortunately, when she's awake, she has to deal with stupid people asking her offensive questions — the latest coming from Australian radio host Kyle Sandilands.
While interviewing the young New Zealander, Sandilands brings up Taylor Swift, whom he refers to as Lorde's "new besty." "Are you together now?" he asks Lorde, who becomes understandably confused. From there, the interview turns into a train wreck.
Sandilands attempts to backtrack — apparently he didn't mean "together like lesbians" — only to dig himself deeper into a hole. He follows that gem up with, "I'm not talking about 'Ellen' together." (Still digging.) He also tosses in some sexist thoughts on Taylor Swift, creepily noting that he'd "love" for the two to be in a relationship, and that "we get on well with her, she's gorgeous." (Almost at rock bottom.)
Image Credit: Facebook
Lorde keeps her cool in the face of disgraceful questioning from a man more than twice her age. She is quick to fire a rebuttal at her host: "What do you mean you're not talking about 'Ellen' together, is there something wrong with lesbians?"
And when Sandilands excitedly prods, "Are you going to confirm now that you're in a lesbian relationship with [Swift]?" Lorde is not having it. "Don't even try it," she says.
Apparently this guy has been fired from Australian Idol, which seems like it would take some serious effort. But its effort he's clearly capable of; he never once seems to realize the inappropriate nature of his questions. Instead, he just keeps on trying to bully Lorde into divulging personal information, telling her sarcastically not to go "overboard with explaining the friendship ... we haven't got all day."
Lorde's response: "I won't, believe me." She knows she's got better things to do with her time than listen to Sandilands. Like... pretty much anything.