Snoop Dogg's French Manicure Is Reinventing Hip-Hop Masculinity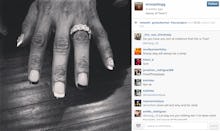 Editorial note: This post contains some graphic images.
Being tough is a full-time job, and sometimes the best way to unwind is a good old-fashioned French manicure. At least that's how Snoop Dogg (a.k.a. Snoop Lion) seems to feel:
But when the 42-year-old rapper posted this Instagram photo of his untouchably fly nail game — courtesy Hey, Nice Nails! — he also drew the derision of his peers. And if there's one thing Snoop won't take lying down, it's derision.
According to the Angie Review, fellow rapper 50 Cent reposted the above image and added this caption in a now-deleted Instagram post: "What the f#ck is going on snoop. Talk to me about this one man,Damn #smsaudio."
Shots fired. Snoop could have responded by taking shots at 50's debatably relevant music career or his odd decision to use this post to plug his headphone company, SMS Audio. Instead, he chose to explain why his nails exist on a plane way above 50's basic realm of comprehension:
"Pimpin," Snoop wrote. "That's what it is spooned n groomed dipped n whipped suited n booted gooted n looted. Real playas keep they nails fly fresh n dipped at the tip. I does what I does cuZ but but please believe me. Don't let the smooth taste fool ya. BTW. This still crip. So fuxk. The haters jus wanted my nefew 50 to know the dynamics to what his big homie on !! Now for u haters. Suck d*ck or die trying. Hahahahahahahah I'm out. Much love 50. Get money !! cuzz I am."
Put simply, Snoop's nails are an externalized expression of his "smooth taste." However, "haters" would be unwise to forget that they're still dealing with a representative of the Rollin' 20s South L.A. Crip set.
Damn. Hopefully 50 understands now.
But there's more to this incident than meets the eye. If the media is to be believed, there's been a recent uptick in "effeminate" fashion trends sported by artists in the traditionally hyper-masculine hip-hop industry. And plenty of folks are unhappy about it: here are some Facebook comments from a recent article on the subject published at The Root.com, titled "From Leather Skirts to French Nails, Brothers Are Stylin'":
Image Credit: The Root
But wait, there's more. An especially vocal opponent of these trends has been Lord Jamar, a former member of the political rap group Brand Nubian. Jamar's fervent homophobia has spilled into his lyrical content and social media presence alike: most recently, he engaged in a bizarrely heated Twitter battle with Marlon Wayans regarding Omar Epps' decision to wear a skirt on The View. Because that's how real adults resolve their differences:
Image Credit: The Urban Daily
What the hell? These responses contain strong elements of absurdity and more than their share of gross homophobia. They also incorporate historical concerns about the "emasculation of the black man" — specifically the terrorizing methods whites used to subdue and oppress black males throughout the 19th and much of the 20th centuries.
These methods are important to understand. The most shocking is perhaps the practice of castrating black men before lynching them in an effort to police the perceived sexual threat they posed. This method was justified using constructed concerns about black male desire for white women — an idea popularized by slave masters and perpetuated throughout Reconstruction and the Jim Crow era.
Image Credit: Wikipedia
Today: As the above backlash suggests, pockets of the black community still refer to this horrific legacy when traditional ideas about black masculinity are challenged. But their intentions are suspicious. And quite frankly, their ideals seem to reflect their own personal bigotry more than any actual concern for the "black community."
But this argument misses one simple fact. What they call "emasculation" more accurately goes by a more insidious name: "dehumanization." The true violence committed against black people has not been the prevention of them from conforming to rigidly defined gender roles. A black man has the right to perform his sexual identity however he wants. The true violence has been the outright theft of black humanity — black people have been unable to truly choose any identity at all, other than what's been imposed upon them throughout American history.
It's as simple as that. So when Snoop gets a French manicure or Omar Epps wears a skirt, they're expressing their identities in ways many black men — and to an extent, men in general — have been violently denied for a long time.
They should be celebrated for this, not ridiculed.