Marvel's Next-Generation Comic Book Lets You Hear the Action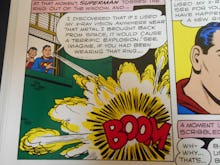 For years, comic book publishers have been searching for ways to adapt their products to better fit the digital medium. Previous attempts to add animation and behind-the-scenes content failed to catch on, but Marvel believes it has the next-level feature to appeal to the tablet generation: adaptive sound.
At its SXSW event, Marvel announced that a new feature will play sound effects for each comic panel, with different scores that will adapt depending on the scene and the reader's pace. For instance, if you read a dramatic fight scene for a long time, the score will play on loop until you are done and transition into a different score when you swap away.
The trial run will begin with a six-issue storyline on Captain America: The Winter Soldier, which will be scored by the Emmy-nominated composer and Marvel veteran David Ari Leon. Starting on Tuesday, readers can download the issues through the publisher's subscription app, Marvel Unlimited, and choose to use the sound feature. 
Check out this review from the Verge for a glimpse at what the feature will look like:
Going forward: There are no set plans for other Marvel titles to adopt the feature, which took a year to develop. Depending on the readers' response, Marvel may also have plans to add sound and score to some of the more popular titles from its back catalog of 15,000 digital issues.
"With adaptive audio it really is a user-controlled, immersive experience," said Kristin Vincent, Marvel's Vice President of Digital Products. "It really is truly another storytelling device as opposed to just being some music that plays in the background ... It's really different every time because each user reads at a different pace."
You can check out the new adaptive sound feature on issues 8, 9 and 11-14 of Captain America: The Winter Soldier.