One Eye-Opening Chart Shows What the War on Drugs Is Doing to America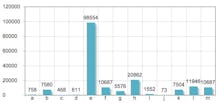 According to the Bureau of Prisons, 50.1% of America's federal prison inmates are serving time for drug offenses. That figure's up from just 16% in 1970, around the time President Nixon declared drug abuse "public enemy number one" and set loose the nation's police and judicial system on drug users and dealers.
All told, the BOP says that around 98,554 prisoners are serving time for drug-related offenses. The closest any other category of prisoner comes is from immigration offenders, comprising 10.6% of the federal prison population, or 20,862 individuals. Lagging a distant third and tied for fourth are inmates arguably more deserving of prison time — 11,946 sex offenders (6.1%), and roughly equal numbers of those convicted of extortion/fraud/bribery or weapons/explosives/arson charges (10,687 or 5.4%).
And what's even more interesting is the breakdown of the drugs related to each convict's sentence. At 27.6%, marijuana was the most common drug related to these federal convictions.
The numbers are astonishing. The number of Americans locked up just for federal drug offenses is higher than the total count of any individual Western European country. And keep in mind we're talking about federal prisoners only. 330,000 people, or about one in every thousand people, were in prison for drug offenses in 2011 when that statistic is expanded to include state-held prisoners.
In fiscal year 2014, the Department of Justice requested $8.5 billion (a 3% increase from the previous year) for federal prisons and detention programs. Two broad categories of nonviolent crime (drug and immigration violations) now compose around 60% of the prison population this budget is meant to serve — in a prison system that, despite rapid expansion, is 40% over capacity.
Does anyone think this needless waste and suffering is rational or sane?