These Men Listed "35 Annoying Things Girls Do" — How Women Responded Was Amazing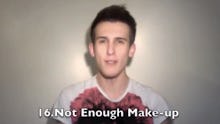 Are you "ugly," "fat," subject to menstruation or — gasp — a lesbian? Because if so, you're probably annoying men with your presence. At least, that's the message of the bizarre viral video "35 Annoying Things Girls Do," which is either a terribly offensive study in misogyny or one of the the worst parodies of misogyny ever. 
Shot by three men in 2011, "35 Annoying Things Girls Do" is generally terrible. Screenshots of the video have resurfaced recently, sparking a pretty awesome response by outraging women who had a field day on Tumblr tearing it apart.
Many commenters were quick to point out that the video is so over the top it must be a joke. But even if the video was trying to be funny, the effect of it generally does more to perpetuate misogyny than satirize it. 
In fact, the video's creators manage to institutionalize the idea that being who you are as a woman is in some way annoying for men, and nothing you do can will make it better. For example, both "wearing makeup" and "not wearing enough makeup" are on the list.
As The Gloss' Hayley Hoover put it:
From where I stand, it seems pretty obvious that jokes about rape should never come from the mouths of people who don't belong to the demographics for which sexual assault is an everyday threat. If the video was intended to mock sexism and show support for women, I feel like there are ways to make that message a lot, lot clearer. If there's any way your satire can be misinterpreted as contributing to rape culture, you've seriously missed the mark.
Lately, there seems to be a trend of creating rage-inducing lists telling women what they should and shouldn't. In reality, it seems writing these lists is the thing that needs to be stopped.
For example, there's the list detailing the 10 types of women that men don't want to marry, which leads with "Miss bossy pants," or the infamous "23 Trends Guys Hate (But Women Love)." More outwardly sexist is this list dictating what women shouldn't be doing in public. And there's the ridiculous "20 Things That Women Do That Should Be Shamed" list from notorious trolling website Return of Kings.
This types of anti-women content is a reminder that while "35 Annoying Things Girls Do" is supposed to be funny, the idea that women need to be policed and handled is still very much real.