19 Photos of Oxford Students of Color Prove Racism Still an Issue at Elite Schools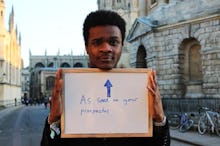 The recent "I, too, am Harvard" campaign, in which students aired their frustrating experiences of being black on campus, sparked an interesting discussion about racism at the university. Now that movement has inspired a sister project: "I, Too, Am, Oxford." This new photo series features Oxford students with dry erase boards sharing some of their own frustrations and revealing the types of comments they hear on campus. 
"A message that was consistently reaffirmed throughout the day was that students in their daily encounters at Oxford are made to feel different and Othered from the Oxford community," the project's organizers wrote. "Hopefully this project will demonstrate that despite there being a greater number of students of colour studying at Oxford now than there has ever been before, there are still issues that need to be discussed. In participating in 'I, Too, Am Oxford,' students of colour are demanding that a discussion on race be taken seriously and that real institutional change occur."
Oxford and Cambridge Universities frequently get flak for their weak racial minority presence on campus. Speaking at the Cambridge Union Society in December, Rev. Jesse Jackson pointed out that 21 Oxbridge colleges admitted no black students last year, and one Oxford college hasn't accepted a black student in five years.
When Oxford accepted 32 black undergraduate students in 2011, it was a 10-year high for the university. Oxford has approximately 3,200 places for new students admitted each year, meaning black students comprised just 1% of the incoming student body.
The problem spreads beyond Oxbridge students, of course. In 2012, there were just 85 black full professors in UK universities. That's not even one professor per higher education institution, on average. 
1.
2.
3.
4.
5.
6.
7.
8.
9.
10.
11.
12.
13.
14.
15.
16.
17.
18.
19.