What Your Favorite Disney Songs Sound Like, Remixed With EDM Beats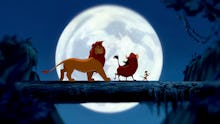 Everyone loves "You've Got A Friend In Me," Randy Newman's theme for the movie Toy Story. Now imagine replacing those clarinets with a pounding beat, thumping bass and driving synths. Now brace yourself, because DisneyMusic is putting out an album full of EDM remixes of famous Disney songs.
DisneyMusic put a short teaser for the project on Instagram, flashing names of electronic dance celebrities like Avicii and Kaskade. Vibe has reported the track list, and it is intriguing to say the least.
In addition to taking on Newman, this album will include reworked versions of "Circle of Life" from The Lion King, ""Baby Mine" from Dumbo and "Once Upon a Dream" from Sleeping Beauty. There's also a new rendition of recent Oscar-winner "Let It Go," to build on the already outrageous success of the Frozen soundtrack. A song from the Tron soundtrack made the cut, which seems like cheating — that was already written by Daft Punk.
We're certainly curious, but there's something comical about the bluntness of the marketing strategy here. Clearly Disney is looking for a way to push these songs towards a new, hip demographic, and for new sources of revenue. The idea isn't actually as crazy as it sounds. Back in the '70s, when disco was huge, a disco version of the Star Wars movie theme was the No. 1 hit in the country for two weeks.
So it is silly, but the anthemic, sing-along-friendly nature of some Disney songs might just make them well-suited to the dance floor. (Though it's hard to imagine what's going to happen to "You Got A Friend In Me.") But no Aladdin? No Mulan? No Pocahontas?
You're probably wondering, "Is it safe?" We'll find out.