This Is What America's First Muslim Fraternity Looks Like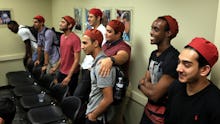 When you think of fraternities, the first things that usually come to mind are house parties and keg stands, not kufis and prayer rugs. But the brothers of Alpha Lambda Mu — or Alif Laam Meem, as they are also known — are out to change people's ideas of fraternities, as well as their perceptions of young American Muslims.
ALM, the first Muslim fraternity in the U.S., was founded last year by Ali Mahmoud, a junior at the University of Texas, Dallas. Since then, chapters have opened at Cornell University and University of California, San Diego, and there are plans to expand this fall at San Diego State and the University of Florida.
"I realized that there was this void for Muslims on campus," Mahmoud told NPR. "A lot of us come from immigrant families and so, growing up in America, a lot of us have to live a double life ... where we try to please our family, in terms of our Islamic upbringing, and then we go to school ... and we're just trying to fit in. We're just trying to be cool."
Watch Mahmoud discuss how he came up with the idea of a Muslim fraternity:
Instead of drinking and hazing new recruits, ALM focuses on education, community service and fostering a spiritual fellowship among brothers. Not only have they fundraised for charitable causes and volunteered for tornado clean-ups in the area, the brothers have also spoken up about women's rights, setting themselves apart from American stereotypes of Muslim men.
Image Credit: Facebook
"We are American. We are American Muslims. Those two don't contradict each other at all. And so we're not hiding away ourselves, we're just living with people who have the same beliefs that we do," Mahmoud said.
While only 1.4% of American college freshmen are Muslim, spaces like ALM provide social environments where students from diverse backgrounds can express themselves freely and educate others. And while the Muslim Students' Association has been around since 1963, ALM hopes to foster interpersonal relationships through a more social context.
Image Credit: Facebook
After all, Christian and Jewish fraternities and sororities have been around for decades. And ALM is not the only Muslim Greek organization either. A Muslim sorority, Gamma Gamma Chi, was founded in 2006 at the University of Kentucky, although later chapters have been based on regions and not on specific schools.
By appropriating the American Greek system, the brothers of ALM demonstrate that popular notions of fraternity life, as well as stereotypes of Muslim men, are outdated.