8 Irish Films That Prove There's Way More to Being Irish Than Drinking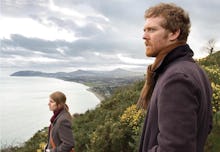 St Patrick's Day is coming up this weekend, and for many people that means it's time to get extremely drunk — or "bolloxed," as the Irish say.
But there's much more to Irish culture — and to celebrating the country's patron saint — than drinking (though, again, it is important). It's a time to celebrate Irish history and culture, which unsurprisingly involves some amazing filmmaking. So this year, try remembering what that culture and history is with one of these great films:
1. 'Michael Collins'
This 1996 biopic about Irish revolutionary hero Michael Collins, played by Liam Neeson, was nominated for two Academy Awards and two Golden Globes.
The film follows Collins' rise from a leader in the war for Irish independence from Great Britain to a founder of the Irish free state — culminating with his untimely martyrdom in the Irish Civil War. This excellent portrayal of the Irish Revolution and Civil War came out when there was still violent conflict between nationalists and republicans over the status of Northern Ireland.
Today, this film is a testament to a more peaceful and free Ireland.
2. 'Intermission'
Ireland has a strong tradition of black humor, from James Joyce to Martin McDonagh, which is why you should never expect to see a straight rom-com in Irish cinema.
So of course, this 2003 documentary-style film about a young couple and their friends also features bank robbery, kidnap and extensive violence — all for laughs, of course. Starring Cillian Murphy, Kelly MacDonald and Colin Farrell, this comedy is mostly about people going absolutely bonkers over love — a universal, rather than strictly Irish, motif.
3. 'My Left Foot'
Directed by Jim Sheridan and starring Daniel Day-Lewis, this 1989 film tells the story of real life Irishman Christy Brown, who suffered from cerebral palsy. Growing up in a poor, working-class Irish family struggling to survive financially, Christy eventually becomes a celebrated author and artist by using his left foot, the only limb he can control. It's pretty amazing.
The film earned five Academy Award nominations including Best Picture, winning one for Day-Lewis' performance and another for Brenda Fricker's, who plays Christy's mom.
4. 'Waking Ned Devine'
This 1998 comedy by Kirk Jones begins when two elderly best friends, Jackie and Michael, in the tiny Irish village of Tulaigh Mhór (Tullymore) learn that one of the town's 52 residents has won the lottery — only to discover that the winner immediately died from the shock of winning.
Impersonations, lies and other hi-jinks ensue as Jackie and Michael attempt to retrieve Ned's lottery money. This film, which won Best Feature at the New York Comedy Festival, features a lovely soundtrack by Shaun Davey, and is mostly just a really good time — as you would expect from a pleasant Irish comedy about scamming a dead friend.
5. 'Once'
This low budget Irish musical film from 2007 was a huge international success, earning the Academy Award for Best Original Song ("Falling Slowly") and spawning a stage adaptation that won eight Tony Awards in 2012, including Best Musical.
Set in Dublin, Once is about an Irish guy and a Czech immigrant girl who meet to share and write music together, but only for a brief time before returning to the reality of their long-standing relationships. A touching but never saccharine romance set to beautiful music, with great performances by Glen Hansard and Markéta Irglová, this film will gently steal your heart.
6. 'The Guard'
This dark Irish comedy from 2011 was the most financially successful Irish film of all time. The movie stars Brendan Gleeson as a curmudgeonly and unorthodox police officer in the west of Ireland, forced to work with a straight-edged FBI agent — played by Don Cheadle — sent to hunt down drug traffickers in the area.
A very unexpected buddy cop comedy, this film contains violence, sexual content and lots and lots of creatively foul language. So enjoy!
7. 'The Wind That Shakes the Barley'
Like Michael Collins, this 2006 film named after an old Irish rebel song takes place during the Irish Revolutionary and Civil Wars. It is a fictional account of two brothers from County Cork, Damien (Cillian Murphy) and Teddy (Pedraic Delaney), who both fight for the Irish Republican Army (IRA) against the British, but eventually find themselves on opposite sides of the conflict.
Directed by Ken Loach, this violent, heartbreaking movie is about fighting for what you believe in, and also betraying and killing your friends and family. If you're set on drinking this St. Patrick's Day, then give this a watch. It'll give you a reason to do so.
8. 'Into the West'
This family-friendly fantasy film from 1992, written by Jim Sheridan and directed by Mike Newell, involves Irish Travellers, storytelling grandfathers and mystical horses. Bringing Irish folk tales to life with a modern day story of two brothers, this film co-stars Gabriel Byrne, Ellen Barkin and David Kelly, and will teach the kiddies about Irish culture while keeping them away from the drink. At least for a few more St. Patrick's Days.