This 'Law & Order' Star Helped to Catch a Real Life Rapist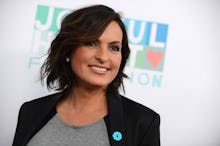 Mariska Hargitay has played a tough-as-nails TV detective for 15 years, and it looks like divide between real life and her TV persona are blurring. Since 2004, the Emmy-winning Law & Order: Special Victims Unit actress has used her Joyful Heart Foundation to help and advocate for survivors of sexual assault and abuse. But recently, she has focused on pushing the government to test America's 400,000 shelved rape test kits — and her efforts are already paying off.
On Monday, Hargitay appeared at a press conference with Detroit prosecutor Kym Worthy to announce that the Joyful Heart Foundation is devoting more funding and resources to test the 11,000 rape kits that having been collecting dust in Detroit, some of which date as far back as the 1980s. Around 1,600 rape kits had already been tested through the combined efforts of Hargitay's foundation and the Detroit prosecutor's office, and the kits helped to identify 100 at-large serial rapists and convict 10 of them.
And on the day of the announcement, a judge sentenced one of the identified rapists to prison for 45 to 90 years — demonstrating the real power and impact of testing these kits.
But perhaps the most shocking thing is that it took so long for this rapist to be convicted. The rape kit with his DNA was found abandoned in a Detroit police warehouse in 2009. Prosecutors were disturbed to find out later that the rapist's DNA had already been found on rape kits from two separate cases in 2005, yet the police had never issued a warrant for his arrest.
Image Credit: The Huffington Post
"It was mind blowing to me," Hargitay said. "My head exploded ... We have the means to do it and DNA equals justice."
There's more to do: But these issues illustrate that rape test kits are not the be-all and end-all solution to catching rapists; the DNA evidence has to be paired with efficient law enforcement and prosecution to result in a conviction. However, as Hargitay points out, it's ridiculous to simply throw test kits aside, especially when they're the best and most effective tool to identify rapists. It's bad police work, and it's a disservice to survivors of assault.
"To me, this is the clearest and most shocking demonstration of how we regard these crimes," Hargitay said at the press conference. "One would assume that if someone endures a four- to six-hour invasive examination that that evidence would be handled with care."
Watch Hargitay's emotional, tear-filled speech below:
Going forward: Already, Hargitay's vocal advocacy and the tireless work of prosecutors like Worthy are making a real difference. Michigan has recently designated $4 million to send 7,400 test kits to private labs for analysis, and state police has pledged to test all kits by the end of the year. Worthy is also meeting with state lawmakers to draft legislation to track all rape kits and test them in a faster and more efficient manner.
On Hargitay's side, she is helping Detroit raise the $14 million it needs to finish testing all its kits. She is also producing a documentary to shine a light on the national backlog of rape test kits, focusing on Detroit's effort to test its remaining pile.
And on the national level, the White House recently proposed a $35 million grant to make a dent in the national backlog of rape test kits. It's not enough, but it's a start — we just need more real-life Sgt. Olivia Bensons to see it through.