These Deleted Three Minutes of 'True Detective' Offer A New Clue About Rustin Cohle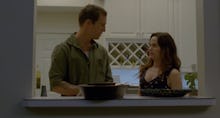 If you weren't quite ready to let go of True Detective, which wrapped its first season up last Sunday, you've now got three more precious, precious minutes to say goodbye.
The following deleted scene doesn't fully answer any of the questions that will forever be burning in our hearts, but it does offer even more insight into Matthew McConaughey's complex character and his relationship with Elizabeth Reaser's Laurie. It also contains the great line, "I don't know if you're mostly good and just a coward, or if you're an asshole who's a little smarter than most." Cherish these moments:
video platformvideo managementvideo solutionsvideo player
This is the last we'll see of Rustin Cohle, as McConaughey has said he will not be returning for a second season. But considering the logic of most anthology shows, there's always the possibility of a reprisal years down the line if the show remains popular. We'll see in 10 years if McConaughey has found a more proper way to "heal."
HBO is not likely to announce who will follow McConaughey and co-star Woody Harrelson's footsteps for quite some time (though there's plenty of cheeky speculation going on). Whichever actors follow the pair definitely have a lot to live up to if they're going to keep the show's brooding, twisted, unpredictable vibe going strong.