In Major Breakthrough, an Israeli Company Has Created Water Out of Thin Air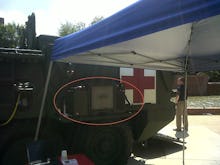 Can you create water out of thin air? An Israeli company is doing just that and is providing its technology to militaries in seven nations including the U.S., Israel and an un-named Arab nation.
Water-Gen, the only water tech company included on Fast Company's list of "The World's Most Innovative Companies 2014" has a lot to teach California, which is going through one of the driest winters in modern history.
This is exactly what California Gov. Jerry Brown thought as well and that's why he recently signed a cooperative research and development agreement with Israeli Prime Minister Benjamin Netanyahu in fields such as water conservation technology. Brown said he hoped Israeli water technology could help California deal with its record-breaking drought.
Originally designed to hydrate troops in severe combat situations, Water-Gen created a water generating unit that turns air moisture into drinking water. That's right: It creates water out of thin air. The solar or electric-powered water generator, which can sit on the ground or in vehicles such as tanks, produces between 10 and 20 gallons of fresh, cold, drinking water per day.
For California, Water-Gen's water-generating technology has great potential to serve those located in the state's Central Valley, a large, dry and rural area.
The company made a short, animated video to explain how the technology works.
Basically, an air filtering unit faces the outside, extracting humidity from the air. The filter works like an air dehumidifier or air conditioner: It sucks in air moisture and removes toxins.
Image Credit: Water-Gen
Then, this clean air enters GENius™, their unique heat exchanging system. GENius™ produces liquid water from the humidity. This liquid water collects at the bottom of the unit and then fills up water tanks. Finally, it flows to a tap located within the vehicle.
Image Credit: Water-Gen
In addition to the water generator, Water-Gen has created technologies that produce drinkable water from various sources, including air conditioning units' wasted drops. Spring, a newer product, is a portable water purifier that can clean any water source, no matter how toxic.
Although Spring was first designed to address military challenges, it can also be used in first responder situations. In fact, when the Israel Defense Forces sent a team to help after Typhoon Haiyan in the Philippines, they used Spring to aid troops and typhoon victims.
Image Credit: Water-Gen
David Gillo, Water-Gen's VP of business development, said the company's products are utilized in remote and emergency situations.
"We're more in remote areas, in isolated locations, where emergency response is needed on the spot," he told PolicyMic. "Until they settle down, they can come and have water immediately. These are the places we are in terms of water supply."
Gillo believes part of the reason Water-Gen was the only water company included in Fast Company's list is that it is doing something new technologically.
"Taking water from the atmosphere has not been done correctly. The tech has not changed for many years. It was based on bad assumptions, the tech was inefficient and it was very expensive," he said.
"We brought it to a place where it's efficient, energy-saving and affordable enough where it's being seriously considered."
Whether you're in a remote location, emergency situation or want to make use of all that nasty water percolating at the bottom of your air conditioner, Water-Gen's innovative technology is ready to change some big things.
Image Credit: Water-Gen