Macklemore Is Now Rapping About Toilet Seat Etiquette In Front of His Own Urine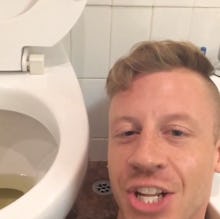 After educating us all about marriage inequality and hip-hop materialism, Macklemore has found his next cause: gender inequality in the bathroom.
It's hard to figure out where to begin with this. On a visual level, this is deeply unfortunate. First off, there's the fact that the opening shot seems to be, straight up, Macklemore's urine. Second of all, there's his trash 'stache which is only marginally less repulsive. And finally, I'm not sure I've ever seen anyone look more self-satisfied than Macklemore as he raps (poorly) about urine.
And does his girlfriend even know he's broadcasting from what is, presumably, her bathroom?
But content-wise, there's a lot to worry about here, too. The rhymes are poor, and his caption beneath the photo sounds sort of deranged:
"ITS TIME THAT US MEN STARTED RESPECTING TO THE BASIN THAT OUR QUEENS SIT ON! LETS RAISE THE NEXT GENERATION TO HAVE BETTER AIM SO WOMEN DONT HAVE TO PEE & POOP ON OUR PEE!…and IM NOT TRYING TO POOP ON YOUR PEE EITHER! BASICALLY, TO ALL THE FRAT GUYS AND SHITTY DADS, QUIT FUCKING UP THE DEUCE SESH FOR THE REST OF US! BUMP THIS CUT IN ALL AIRPORT BATHROOMS AND FOOTBALL GAMES! FUCK A DRUNK DAD PISSING ON THE GROUND, AND A FRAT BRO TOO HAMMERED TO HANDLE HIS DANGLER! MAN UP AND LEARN DONG CONTROL!…IM OUT!!!"
It's understandable that Macklemore is fed up with the super clean, immaculate pop world he's recently entered, but this is probably not the best way to introduce grit to his music.
This 'gram just reinforces the fact that Macklemore's Instagram is one of the most reprehensible places on Earth, especially following his heartfelt, private apology to Kendrick Lamar after the Grammys which he then posted to his many followers. They both prove the same thing: The man writes some good pop songs, but he's a serious fame hog.