What Happened Last Night Between Israel and Gaza, Explained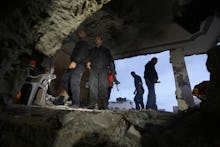 It's been a tense 24 hours in Israel and Palestine. Last night, residents of Israel fled to bomb shelters as the Islamic Jihad, a militant organisation in Gaza, launched rockets at the southern part of the country. The Israeli Defense Forces (IDF) responded with military might, raining airstrikes on targets in the blockaded enclave that's home to more than one and half a million people.
A ceasefire was announced today, but with just over a month to go until the end of the peace process, the future looks uncertain. What does the escalation actually mean?
So, why has all this flared up now? It's been a rocky few days in the Holy Land. From Monday morning, in the course of 24 hours, six Palestinians were killed by Israeli forces. In the West Bank, Raed Zeitar, a judge, was shot as he crossed from Jordan; 18-year-old student, Saji Darwish, was killed by a sniper; and Fida' Mohyeeddeen Majadla died after forces fired on his car. Then, on Tuesday, an Israeli incursion into Gaza killed three members of the militant Palestinian group Islamic Jihad.
And then rockets started landing in Israel? Pretty much. The Islamic Jihad started making noises about a response yesterday. By midnight they had claimed responsibility for 90 rockets that were falling on southern Israel. The attacks, they announced, were part of an operation called 'Breaking the Silence,' in retaliation to Israeli action in the Gaza Strip and the killing of its three members, as well as the recent deaths in the West Bank. Residents of towns like Sderot fled to bomb shelters, but no serious injuries were reported.
Image Credit: AP
And how did Israel respond? The leadership did not mince its words. "If there is no quiet in our south, no quiet for the residents of Israel, there will be lots of noise in Gaza," Netanyahu tweeted. "And that's putting it mildly." Foreign Minister Avigdor Lieberman said there was "no alternative other than a complete takeover of the Gaza Strip."
And they followed through? Lieberman didn't get his way. But as the rockets fell, Israeli forces responded with airstrikes: Officials announced that 29 targets, including smuggling tunnels and "terrorist infrastructure" had been hit in the Gaza Strip. Given Israel's previous record and that Gaza is one of the world's most densely populated areas, there was a very real fear of casualties. But so far it looks like few people have been hurt.
Good. So have the two sides come to an agreement yet? Early on Thursday, Egypt began brokering an agreement between Israel and Palestinian factions in the Gaza Strip. By the afternoon, senior members of Islamic Jihad had said the ceasefire deal that was originally established in 2012 had been reactivated. The IDF, however, denied that claim, and whether the ceasefire will hold is yet to be confirmed.
So was there a ceasefire until a few days ago? Technically, yes. It was was brokered after the November 2012 war that left more than 170 Palestinians, including 30 children, dead in Gaza, as well as five Israelis. Egypt brought the conflict to an end after eight days by mediating a ceasefire.
Image Credit: AP. Young Palestinians walk past graffiti in Gaza.
So until Tuesday there was calm between Israel and Gaza? That would be going a bit far. But the ceasefire has always been fragile, and it's violated frequently. The extrajudicial killings on Tuesday were just the latest in what are now regular bombings, incursions and sniper fire from Israel to Gaza, which since December have killed around a dozen Palestinians, including a 3-year-old girl and a 57-year-old woman. Israeli authorities say the attacks target terrorists who are set on harming Israeli civilians. Groups like Islamic Jihad, in turn, have fired an estimated 40 rockets into Southern Israel, although no Israelis have been killed under the ceasefire terms.
Who are these Islamic Jihad people? Are they the same as Hamas? No. Hamas is in power in the Gaza Strip. It signed up to the 2012 ceasefire, its leaders have disassociated themselves from any bombing and Islamic Jihad, a different group, has publicly taken responsibility for the attacks. Israel, however, still holds Hamas accountable: "Palestinian Islamic Jihad is behind the rocket attack. However, Hamas is responsible for all attacks emanating from the Gaza Strip," the IDF said in a statement.
But what does all this mean for the peace process? As a general rule, airstrikes are never good news for protracted and delicate peace talks. But this context is a bit more complicated. The groups that hold power in Gaza, for a start, aren't actually part of Kerry's negotiations. Hamas and Islamic Jihad rejected the U.S.-led peace process long ago, and Israel is now negotiating with the Palestinian Authority (P.A). The P.A., headed by Mahmoud Abbas, is in power in the West Bank, and is highly unlikely to suddenly start firing rockets at Tel Aviv.
On the other hand an onslaught on Gaza could be seriously destabilising for the West Bank, where tensions are already running high. Many Palestinians are angry that the P.A. is continuing to negotiate with Israeli authorities as they continue to build settlements in the West Bank kill and innocent Palestinian civilians. If things continue to escalate, Abbas would find it difficult to continue with talks that are already widely regarded as illegitimate and a failure, and violence and unrest could increase sharply.