Colin Powell Took a Selfie 60 Years Before They Were Cool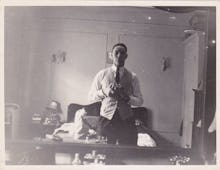 For this week's #TBT (Throwback Thursday), we got an awesome surprise: a selfie from Colin Powell, 60 years before anyone knew what a selfie was.
His caption on Facebook: "Throwback Thursday - I was doing selfies 60 years before you Facebook folks. Eat your heart out Ellen!"
Powell is 76 years old, meaning the photo was taken sometime in the '50s and while he was in his late teens. And man does he look dapper in his vest and tie. This is a dude who knows how to keep it real.
This photo was likely taken in the South Bronx, where Powell attended Morris High School until 1954. Powell was a self-admitted C student at City College of New York (nestled around 141st St. on a hill overlooking northern Harlem) until 1958. After college and years in the ROTC, he enlisted in the United States Army, beginning an illustrious career including several tours in Vietnam. Known as a political general, Powell served as Reagan's national security adviser and later the chairman of the Joint Chiefs of Staff.
The new photo puts him just a few years behind another of the best selfies of antiquity, Stanley Kubrick's 1949 self-portrait, and around 70 years behind some of the most famous.