Take These 9 Online Classes to Hack Business School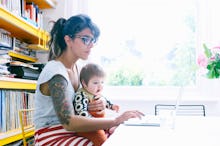 MOOCs are all the rage right now. With the rising cost of college tuition, young people are turning to massive open online courses (MOOCs) to get the knowledge that only a business school education used to be able to provide. 
Instead of the expensive years spent towards earning an MBA, young people are utilizing online business courses. General Assembly, a prominent purveyor of MOOCs, recently announced it raised more than $35 million and is now serving more than 100,000 students. And the good news is employers are taking these non-traditional routes seriously. Yahoo! is even paying employees to take specific MOOCs.
The largest category of MOOC users are in their 20's, and 40% are college grads, proving that young people know they need to stay on top their game when it comes to the rapidly changing workplace.
"In today's job market, simply having a BA isn't enough," Daniel Friedman, co-founder of Thinkful, an online school that uses one-on-one tutoring and personalized curricula, told PolicyMic. "You need to have demonstrable skills that employers need. Non-traditional learning opportunities, including both online and offline courses, are the fastest way to learn those new skills and move up in your career."
Adda Birnir, CEO and founder of Skillcrush, an online digitial education resource that specifically aims to help women get ahead, also noted that these courses have a very appealing format for young people, combining the best things about in-person courses — instructor support, mentorship and community — with subjects that are better taught online. 
The bottom line: Time is valuable. In the current economy, where a new startup launches every day and digital and tech skills are necessary, getting the goods faster seems to be key. Birnir said that when she considered grad school, nothing really offered the skills she knew she needed. 
"I needed (digital skills) and no matter what, I knew that given the pace of change in the industry, I would inevitably fall behind the industry during school, and then end up with a ton of debt," she told PolicyMic. "On the other hand, I knew that in tech I could get paid to learn new skills. So I chose to just learn what I could on my own, cobble together an education with online classes and books and some evening classes, and skip the student loan debt."
Here are nine MOOCs that young business-minded people should consider to gain more skills without having to shell out tons of cash.
1. How to Start a Startup (Treehouse)
Treehouse offers a library of more than 600 videos organized into specific learning tracks, along with interactive quizzes and code challenges. This course is perfect for someone who's ready to start a company but isn't interested in business school. "How to Start a Startup" will teach the business basics that every entrepreneur needs to know. There will also be specialized individual business courses like "Financing Your Company" and "How to Price Your Products."
Co-founder Ryan Carson, who has a computer science degree and no formal business training, told PolicyMic, "We think that no matter what career you're in, a good basic understanding of business, accounting, and marketing and social media is a really valuable foundation."
2. Business Strategy (Coursera)
Coursera is a social entrepreneurship company partnering with Stanford, Yale and other top universities and organizations around the world to offer free online courses. The education startup was launched by two Stanford professors in 2011.
This business strategy course sounds like it's right out of business school, except you won't go bankrupt trying to pay for it. According to the website, the course will "explore the underlying theory and frameworks that provide the foundations of a successful business strategy." In the first week, you'll be introduced to strategic analysis and competitive markets. In the next week, you'll explore and analyze industry forces, which includes a case study on the the microbrewery industry.
3. Front-End Web Development (Thinkful)
Thinkful is an education startup that teaches programming through career training and online mentorship. The Thinkful Front-End Web Development course will help you learn to build a resume or design a small business site.
At $300 per month, it may cost more than some online classes, but you'll be working with an instructor closely, which you only usually get when enrolled in a master's program.
"Young people today, myself included, understand that companies can't provide stable careers with ongoing growth opportunities, which used to be the case," co-founder Friedman told PolicyMic. "We're adopting a new mindset where we're constantly looking to learn new skills that will help us get opportunities for advancement. We have a hunger for growth, in our skills and in our careers, and these new educational offerings satisfy that drive."
4. Venture Deals (Kauffman Fellows Academy)
For anyone who is going to be raising capital or trying to fund their startup, this course is essential. Taught by renowned venture capitalists Brad Feld and Jason Mendelson, partners at the Foundry Group and authors of Venture Deals, the course reveals the secrets behind how venture financings really work.
5. Technology Entrepreneurship (NovoEd)
Chuck Eesley is an award-winning Stanford University assistant professor of management, and also happens to teach the process that Silicon Valley entrepreneurs use to launch tech companies.
The course is aimed at people with an interest in building a technology enterprise. Students will both learn basic theory and gain valuable experience working with other students to launch a startup from beginning to end. The teams are also matched with mentors based out of Silicon Valley.
6. Ruby on Rails Programming (Codecademy)
Codecademy is an online interactive platform that offers free coding classes in six different programming languages: Python, PHP, jQuery, JavaScript and Ruby, as well as markup languages including HTML and CSS. As of June 2012 the site had more than 5 million users who had completed over 100 million exercises.
With the modern web development framework Ruby on Rails, you can learn everything you need to get started building your MVP (minimum viable product) from scratch. A number of other MOOCs and online schools also offer Ruby on Rails courses.
7. Product development or sales courses (General Assembly)
General Assembly was founded in 2011 with a $200,000 grant from New York City's Economic Development Corporation. 
The Product Development class enables you to gauge whether a product is viable from a business perspective, has a potential market of customers and is even technically possible. 
Sales can't always be taught, but GA does teach the fundamentals of sales for starting a business, which you'll get for a lot less money than you'll pay for an MBA. 
8. Lead Like an Entrepreneur (Babson College)
This free class will literally tell you everything you need to know to think like an entrepreneur.
The program was started by two senior Babson College leadership professors who wanted to offer an entry-level "action-oriented course to help develop your entrepreneurial leadership skills, whether or not you intend to start a new business."
According to the website, "You will have a chance to formulate a vision of what kind of leader you want to be, work with a (virtual) team, practice giving and receiving feedback on team performance, and role-play influencing someone you will actually need to influence to accomplish your goals."
9. Career Blueprints (Skillcrush)
Skillcrush is a community-driven online course that teaches women how to code. Birnir believes the company's newly launched "Career Blueprints," structured online learning programs to train people for a digital career in three months, can ultimately provide what you need to excel in your career and maybe even help you launch a business.
It's a fusion of things such as video lessons, exercises, chats and one-on-one calls with instructors, and takes less than an hour a day. Birnir said it's a perfect fit for underemployed (or underpaid) professionals, those looking for part-time work or those just looking to get ahead.