The Man Who Narrated Your Favorite Movie Trailers Has Died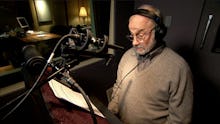 The news: The Hollywood film industry thrives under bright lights and cameras.
Glamorous stars are routinely worshipped, splashed on tabloid covers and scrutinized in TV interviews. But in the background, hundreds toil in relative anonymity. Such was the life of Hal Douglas, who passed away March 7 at age 89:
Douglas was one of Hollywood's more unique figures: an undeniable icon who nobody would recognize on the street. His claim to fame was his gravelly voice, which he used to narrate thousands of movie trailers over a career that spanned decades.
The titles he helped advertise read like Hollywood's "greatest hits": Forrest Gump, Philadelphia, Meet the Parents, Lethal Weapon. Douglas was on the short list of three go-to voice talents in the industry, the others being Don Morrow, the voice of the Titanic trailer, and Don LaFontaine, who passed in 2008.
"I never thought of it as a great voice," Douglas said in a 2013 short film about his career, ironically titled A Great Voice.
Clearly, his career suggests otherwise. Born Harold Cone in Stamford, Conn., Douglas changed his name when he moved to New York to pursue an acting career. He'd served three years in the Navy during World War Two, and studied theater at the University of Miami. But a career in the Big Apple proved challenging, so he turned to voice-over work to supplement his meager income.
He eventually became a legend: "When you go past superstar status, you reach icon status in this business, where people know you by one name only," said Marice Tobias, a voice coach to many A-list actors. "That was Hal."
A humble icon: Douglas remained modest, and continued living in New York despite his Hollywood success. "I'm not outstanding in any way," he told the New York Times in 2009. "It's a craft that you learn, like making a good pair of shoes. And I just consider myself a good shoemaker."
One of the voice-over legend's few onscreen appearances came in 2002, when he was featured in a trailer for Jerry Seinfeld's documentary Comedian. The humorous YouTube video above captures his role as an actor named "Jack," who only speaks in movie trailer clichés. It constitutes a brief but memorable moment in the spotlight.
Later in life, Douglas moved to Lovettsville, Va. with Ruth Francis Douglas, his wife of 43 years. He is survived by their daughter and two sons from a previous marriage.
His iconic voice will certainly be missed, but thankfully he left a considerable body of work for the world to look back on and enjoy.