How America's 11 Most Dangerous Cities Are Tackling Crime With 21st Century Tech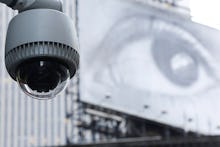 Recent advances in technology are transforming police departments across the United States.
Although crime rates remain high in many cities, police chiefs are beginning to realize that the best way to tackle high crime rates is not only through men on the street, but also through technological innovation. From drones to predictive policing, America's 11 most dangerous cities (according to the latest FBI crime statistics) are investing in tech in order to fight crime.
1. Flint, Mich.
Violent crimes: 2,780 per 100,000 people
Despite its high crime rate, Flint is attempting to counter the surge in violence with technology. In mid-2012, the Flint Police Department partnered with Coplogic to introduce the Desktop Officer Reporting System (DORS), a new way for residents to report crimes online. Coplogic claims its system allows law enforcement agencies to accept and file reports without having to dispatch officers to the scene.
"Our officers respond to 911 calls 56 minutes of every hour," said Jason Lorenz, the city's public information officer. "This alleviates the burden of calls on our officers so that they can handle more serious crimes."
Coplogic, a private provider of software services for law enforcement agencies, has a long list of governmental clients.
2. Detroit, Mich.
Violent crimes: 2,122 per 100,000 people
Another industrial town that has dipped into disarray, Detroit is America's second-most dangerous city. In 2012 the FBI reported 55 murders and 685 robberies per 100,000 people in Detroit, second only to Flint in terms of violent crime. However, the city is attempting to turn around their safety record using social media.
The Detroit Crime Commission launched the Gang IQ initiative, monitoring social media around Detroit Public Schools in order to uncover gang-related criminal activity. Working with the online platform Geofeedia, Gang IQ provides focused data steams based on location and keywords.
3. Oakland, Calif.
Violent crimes: 1,993 per 100,000 people
Oakland had more robberies per capita in 2010 than any other American city, with 1,086 robberies per 100,000 people, the highest of any American city since 2000. In total, Oakland experienced 1,993 violent crimes per 100,000 people, the third-highest in the United States.
To combat crime, Oakland installed high-tech streetlights last year, replacing 30,000 high-pressure sodium cobra head bulbs with LED streetlights. Research has shown that improved street lighting can potentially decrease crime by an average of 7%.
4. St. Louis
Violent crimes: 1,776 per 100,000 people
St. Louis had 1,776 violent crimes and 35 murders per 100,000 people in 2012. The St. Louis Police Department is considering employing drones to monitor and potentially deter violent crime. However, if drones are going to fly in St. Louis' skies, it's not going to happen without public conversation.
"We're proceeding in a very cautious way. First we must look at the technology and if we decide to use the technology, to what extent it will be used," St. Louis Mayor Francis Slay told the St. Louis Post-Dispatch.
5. New Orleans, La.
Violent crimes: 815 per 100,000 people
Despite New Orleans' relatively lower total violent crime rate, the bayou city saw 53 murders per 100,000 people in 2012. Although the murder rate is expected to drop for 2013 in the full-year FBI statistics (which have not yet been released), New Orleans continues to have one of the highest murder rates in the country, behind only Flint and Detroit.
With the hope of decreasing violence, the New Orleans Police Department is launching a new crime-fighting initiative this month called "SafeCam NOLA." With this initiative, the department wants people with private security cameras to register them with the police so that they can monitor them.
6. Bridgeport, Conn.
Violent crimes: 1,205 per 100,000 people
While violent crime across the United States has declined over recent years, Bridgeport has experienced a 2% increase in the total number of violent crimes with 1,205 per 100,000 people in 2012. Additionally, the city holds the record for the highest number of forcible rapes per capita, with 266 per 100,000 people in 2012.
Bridgeport has attempted to tackle their high crime rate with innovation: In 2012 Bridgeport police created a new smartphone app, "iWatchBridgeport," to help residents report and track crimes. 
7. Memphis, Tenn.
Violent crimes: 1,749 per 100,000 people
Memphis reported 1,152 aggravated assaults and 514 robberies per 100,000 people in 2012. Youth crime is also a significant issue in Memphis. In 2011, 48% of murders were committed by suspects under 25 years old.
The Memphis Police Department has taken on their high crime rate with a program called Blue CRUSH (Criminal Reduction Using Statistical History), an analytics-based predictive policing program that recognizes underlying crime trends and identifies criminal hot spots. In the first two hours of the pilot operation of Blue CRUSH, Memphis police made 70 arrests.
8. Birmingham, Ala.
Violent crimes: 1,518 per 100,000 people
Birmingham's murder rate is one of the highest in the country, with 31 murders per 100,000 people in 2012. The city also reported 954 aggravated assaults per 100,000 people, according to most recent full-year statistics. Birmingham also counted 6,934 property crimes per 100,000 people in 2012, among the highest in the country.
According to Lt. Sean Edwards, the Birmingham Police Department is beginning to incorporate technology into crime-combating techniques, specifically through ALPR (automatic license plate recognition). When a vehicle passes a patrol car, this program automatically reads the cars' tags and tells the police officer by voice if the car was listed as stolen.
9. Baltimore, Md.
Violent crimes: 1,405 per 100,000 people
While the nation's murder rate declined in 2013, the number of homicides in Baltimore increased 7.3%, according to statistics from the Baltimore Brew. With this substantial increase in murders over the past year, the police force is acquiring new crime-fighting technology.
In 2014 Baltimore police will install a new gunshot detection system called ShotSpotter. The new program uses audio receivers to detect gunshots. Police will then use the recordings to track and respond to shootings. ShotSpotter systems are already being used across the United States, in cities like Oakland, Calif., and New Haven, Conn.
10. Cleveland, Ohio
Violent crimes: 1,384 per 100,000 people
Cleveland's violent crimes have grabbed headlines across the nation in recent years, from the shocking tale of kidnapping and abuse by Ariel Castro to the discovery of 11 decomposing bodies in 2009. Cleveland's murder rate increased 30% in 2012, with 25 murders per 100,000 people.
When asked how the Cleveland Police Department is tackling their high crime rate, Sgt. Anthony Gorsek said the police force is considering body cameras. High-tech body cameras will be worn on the officers shirt or hat and will monitor the movement and actions of suspects as well as cops.
"If you know you're on camera, it changes the whole dynamic of the interaction," Gorsek said.
11. Newark, N.J.
Violent crimes: 1,154 per 100,000 people
Newark had 34 murders and 709 robberies per 100,000 people in 2012, despite Mayor Cory Booker's attempts to crack down on crime. However, Booker notably invested in high-tech policing, leaving his innovative mark across the city.
Not only did he revamp the police department website and install dashboard cameras in patrol cars, he also signed a deal with Newark businesses to give police real-time access to surveillance cameras. Police hope that increased surveillance will help them catch more criminals and decrease crime. 
Technology is slowly revolutionizing how police handle crime, and private companies are playing a major role.