Congressman Estimates "5 or 10" Members of Congress Smoke Weed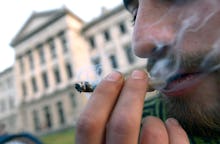 Congressman Jared Polis (D-Colo.), one of the federal government's most ardent supporters of marijuana legalization, thinks there's a pretty good chance some members of Congress could be using.
"I don't think more than five or 10 I would guess," said Rep. Polis at a National Cannabis Industry Association Capitol Hill briefing on Thursday. "But I really wouldn't know because I haven't seen them use it. I would just be completely guessing."
I don't know. If you take into account national averages, Rep. Polis' estimate of "five or 10" seems suspiciously low to me.
According to a Health and Human Services Survey, the rate of illicit drug use among adults 26 or older in the past month stands at around 7%. You might expect older adults, who might tend to be a little more cautious, to use significantly less. But they don't. Of adults aged 50-54, 7.2% had admitted to the use of illegal drugs in the past month in 2012. The numbers decline very slightly as you get older: 55-59-year-olds are at 6.6%, and those 60-64 use at just 3.6%. I'd guess that either marijuana or cocaine would be a drug-addled congressperson's poison of choice, since it'd be hard to imagine them regularly using anything else. And god only knows how many functional alcoholics serve in our legislature as well.
The average age of a member of the House of Representatives in the 113th Congress is about 57. So if Rep. Polis is right, then the rate of drug use in Congress would actually be somewhere around 6%, or 26 active drug users. That said, congresspeople tend to be aggressive, dominant, risk-taking, wealthy people and are predominantly male. Just 23.4% of the House is female, and women do drugs at significantly reduced rates. Because of that, it's certainly possible that the number of congresspeople who do drugs is much higher than you'd suspect. 
As far as marijuana goes, it could be anywhere from 1-5%, or four to 20 members. More of them probably use other drugs, and plenty of them drink, smoke and engage in other kinds of frowned-upon conduct. But what might be more important than what they do is how they vote. How many hypocrites in Congress want to send people to jail for doing drugs?