Turkey Protesters Took This Ellen-Style Selfie. While Being Arrested. In a Police Van.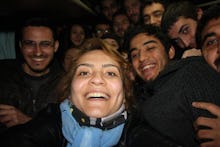 Okay, this is the selfie that should beat out Ellen DeGeneres' now-famous Academy Awards tweet.
These protesters in Instanbul took a selfie from the back of a police van after their mass arrest. The latest protests were inspired by 15-year-old boy Berkin Elvan, who was struck by a teargas canister during protests last June and died on Tuesday. Since then, tens of thousands of protesters flooded Istanbul to commemorate his death. Tensions have been rapidly rising following another two deaths in recent days; one police officer reportedly had a heart attack, while a male protester was shot in the head. On March 7, these 14 protesters found themselves locked into a police van.
So, what else to do but take a selfie?
Thousands of people have re-shared the photo, which inspired some subsequent copycats by other protesters:
"While police are old-school agents of the repressive state, protesters are young, hip and interconnected to viral cultural phenomena," wrote Today's Zaman, one of three English dailies in Turkey.
"Or in other words: 'We're here, we're cheery, get used to it."
While Ellen managed to get just 12 faces into her famous selfie, this one crammed in 14. But that's probably because the van was pretty cramped.