Jimmy Kimmel Asks SXSW Hipsters About Their Favorite Bands. There's Just One Problem.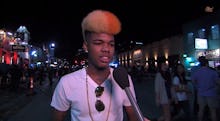 It's rare to see a group of people so unknowingly make complete fools of themselves on national television, but that's exactly what Jimmy Kimmel has done with his newest installment of "Lie Witness News."
Kimmel, who's been broadcasting his show Jimmy Kimmel Live from Austin, Texas this week during the South by Southwest music and arts festival, had some fun with the hipster crowd. Kimmel exposed SXSW hipsters as phonies by asking them to share their reactions about completely made-up bands. The result? Something truly special.
Check it out:
Being in the know and knowing about the next big thing are two trademarks of "hipsterdom," and yet, as this video shows, sometimes being in the know means knowing about things that simply don't exist.
Kimmel has been releasing these "Lie Witness News" videos for a couple years now, and most of them are pretty spectacular. Though they tend to vary somewhat in approach, asking hipsters about made-up things tends to be a popular theme, just like in this equally funny Coachella video from last year.