King James Is Obama's Newest Weapon to Get Young People Signed Up for Obamacare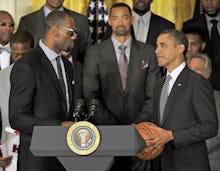 The Mar. 31 deadline to enroll for health insurance at HealthCare.gov is just around the corner, but President Barack Obama is struggling to convince people to sign up. According to the latest reports, 4.24 million Americans have bought health care through the marketplace, far shy of the 5.6 million estimate. But there is one particular group that continues to worry the Obama administration: our generation.
Just around 1.8 million young adults have reportedly signed up for health care, comprising 25% of the enrollees, but the administration is hopeful that a third of new enrollees will be in the 18-34 group. To make its last big push, Obama pitched health care on the web series "Between Two Ferns" earlier this week. The White House also rolled out a "we nag you because we love you" commercial featuring the moms of Adam Levine, Jonah Hill, Alicia Keys and Jennifer Lopez.
But now, the president has employed a new weapon to get young people signed up: LeBron James.
That's right, King James has stepped up to pitch health care to the younger generation by filming a 30-second spot that will air on ESPN, ABC, TNT and NBA TV during NBA games. The Miami Heat forward has enjoyed a good partnership with the White House in the past; he played a pick-up game with the president for Obama's 49th birthday, and last January, he appeared in First Lady Michelle Obama's "Let's Move" campaign video with his teammates.
Watch the commercial below:
"The president greatly admires and respects LeBron, and we are excited that he is joining a number of other athletes in helping spread the word during these critical final weeks of open enrollment," said an administration official.
As for James, he said he was happy to use his platform to reach out to young people. "You want to put yourself in a position where — you hope you never get into an accident — but if you do, you want to be secure," he said. "And I think a lot of young adults and African-Americans as well are afraid because they are not even educated about it. And hopefully my voice, and hopefully the other people who've done it, can get them more knowledgeable about it."
The president's special targeting toward young people is showing signs of working: His "Between Two Ferns" appearance received 17 million views, and became the top referrer to the HealthCare.gov website.
Still, the numbers still remain far below what the administration was hoping for:
Image credit: The New York Times
One thing that the administration is counting on besides celebrity star power? Our generation's penchant for procrastination.
"We learned from the Massachusetts experience that young adults tend to sign up later in the process. So we know that millions of Americans are finally obtaining the security of affordable health coverage and that's there still time for others to sign up," said Health and Human Services Secretary Kathleen Sebelius.
Perhaps James' commercial in the middle of March Madness can get young people to jump on board.