Everything You Need to Know About What Just Happened in Crimea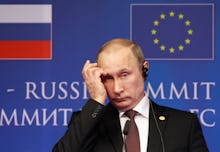 On Tuesday, Vladimir Putin seized Crimea.
That afternoon, the Russian president signed a treaty that absorbs the Crimean peninsula into the Russian Federation. Shortly thereafter, Putin made an appearance in Moscow's Red Square: "Crime and Sevastopol are returning… to their home shores, to their home port, to Russia!" he told a euphoric crowd.
Already, there is talk on the continent of a "New Cold War."
Let's back up:
What just happened in Crimea?
On Sunday, citizens in the autonomous Republic of Crimea voted, in a referendum, to secede from Ukraine and join the Russian Federation.
According to Crimea's referendum committee, some 97% of voters approved uniting with Moscow.
So the people of Crimea have spoken!
Kind of.
Here's the rub: Voters had no choice but to vote for secession. The referendum ballot offered two options, which the BBC summarizes: "Join Russia immediately or become independent and, possibly, join Russia later." There was no option to stay part of Ukraine.
In fact, on March 6, Crimea's parliament had already voted to join Russia. The referendum was meant only to "confirm" that decision.
Last week, John Herbst, the former U.S. ambassador to Ukraine, told PolicyMic that the vote was "going to be a North Korea-style election … a joke."
Here's another rub: Since Ukraine's central government considers the vote "illegal," Crimean citizens who are loyal to Kyiv (like the ethnic Tatar population) largely boycotted the referendum.
And here is another: On Sunday, Crimean citizens went to polling stations that were surrounded by pro-Moscow militias — on a peninsula that has, since February, been illegally invaded by thousands (possibly tens of thousands) of Russian soldiers.
What's happening now in Ukraine?
On Monday, Crimea's parliament will formally ask Russians to be annexed. Crimean parliamentarians will then board a plane to Moscow, for talks with the Kremlin.
The AFP reports, "Preparations to become part of Russia — a process that could take months — are to begin this week."
Meanwhile, the government in Kyiv has dismissed the referendum as illegal. Its leaders have vowed not to cede "a single centimeter" of territory to Moscow and have issued an arrest warrant for Crimea's prime minister.
But authorities are also preparing for the worst. Kyiv just announced plans to form a new Ukrainian National Guard. It is currently training some 20,000 Ukrainians "to defend the country."
What will Russia do next?
Russia had already promised to "respect the historic choice of the people of Crimea." On Tuesday, Moscow announced that it would pursue the "nuclear option:" full-throttle annexation of the peninsula.
In an hours-long speech at the Grand Kremlin Palace, Putin explained that he had submitted legislation to begin the annexation process.
Dmitry Rogozin, Russia's deputy prime minister, took to Twitter to blast "Comrade Obama."
What will the West do?
On Monday, the United States and Europe imposed tough sanctions against Russian policymakers and Putin advisers; these include visa bans and asset freezes. An executive order singed by Barack Obama allows the US to act against "any individual or entity that operates in the Russian arms industry."
Already, President Obama had sent US fighter jets to patrol the skies over Lithuania, Latvia and Estonia—and announced new military training operations in Poland, which shares a border with Ukraine.
Will Russia stop at Crimea?
It's the question on everyone's mind.
Things don't look good. On Saturday, Russian forces seized the eastern Ukrainian village of Strilkove. This marks Russia's first military move into larger Ukraine, beyond Crimea.
Meanwhile, in the eastern city of Donetsk, demonstrators called for a referendum of their own. They held a pro-Russia rally around a large sign reading, "Our Homeland is the USSR."
In late February, Russia's parliament introduced a new law that will make it easier for Moscow to invade new territories.