6 Photos Show How Chicago Turns Its River Green For St. Patrick's Day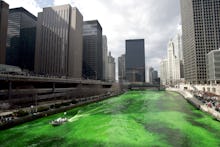 If you were traveling in Chicago over the weekend, you hopefully were not alarmed by the bright hue of the Chicago River — it was not radioactive waste, but rather a good, hearty dose of St. Patrick's Day cheer.
At 9:30 a.m. on Saturday, the Chicago Journeymen Plumbers Union Local 130 headed out in boats to spread the colorful dye, which lasted around 12 hours. The river-dyeing ceremony immediately preceded Chicago's St. Patrick's Day parade, which began at noon.
Image Credit: AP
Thousands of onlookers watched as the orange dye magically turned green as it reacted with the water. How does it work? "Leprechaun magic," said the tight-lipped volunteers. The recipe is the plumbers union's closely-guarded secret.
Image Credit: AP
The ceremony has been going on since 1962, when a plumber allegedly stained his overalls green after using a dye to detect leaks in the river. It just happened to be perfect shade of Irish green, and after city authorities approved, a tradition was born.
Image Credit: AP
Around 40 pounds of vegetable dye are used every year to keep the river green. The boats then travel back and forth to stir up the water.
Image Credit: AP
Chicago is a huge St. Patrick's Day destination in the U.S. Since the city held its first parade in 1843, around a million spectators gather every year to watch. In case you were wondering how many people live in Chicago, there are only 2.7 million inhabitants, with Irish Americans making up the biggest ethnic group. Chicago has the biggest Irish population in the U.S. after New York.
Image Credit: AP
Watch this stunning time-lapse video of Chicago River's leprechaun operation: