San Francisco Is Getting a Spectacular Rainbow Upgrade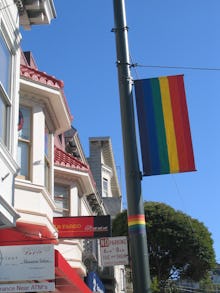 If there's one American city that keeps giving to the LGBT community, it's San Francisco. The Castro, the country's first gay neighborhood and now the largest, is getting rainbow crosswalks on all four pedestrian crossings at the intersection of 18th and Castro streets.
Out of more than 4,500 respondents online and in-person who were asked for design suggestions, almost 42% voted in favor of the rainbow, the LGBT equality symbol. This is an inspiring statement of how proud and receptive the city is toward its gay community.  
Image Credit: AP
Architects involved in the project said they were inspired by the neighborhood's gay heritage, and most of the options they gave in the survey recognized the LGBT influence on the community. The other choices were "rainbow stripes, rainbow handkerchief paisley, a design inspired by the Castro Theatre foyer tiles and a design inspired by the Muni overhead catenary wires."
The revamp plan also includes a Rainbow Honor Walk that will feature LGBT pioneers including Harvey Milk, Allen Ginsberg, Oscar Wilde, James Baldwin and Harry Hay. Though the construction will be ready by October, the workers will stop and clean up the path for the city's pride parade in late June.
San Francisco has long been a safe haven for the LGBT community, and this physical acknowledgment of their popular neighborhood demonstrates their presence and influence in the area. Other cities like Los Angeles and Vancouver have also made urban planning changes to favor the LGBT community.
West Hollywood, whose population is more than 40% gay and lesbian, had a similar project in 2012 when it added two rainbow sidewalks. Vancouver followed suit last year announcing four rainbow sidewalks a month before their pride parade. 
Who knows, maybe the Castro's beautiful redesign is the beginning of a nationwide movement. Are you listening, NYC?
Image Credit: ABC 7