A Ref Wouldn't Let This Girl Play in Her Hijab — Here's How Her Team Responded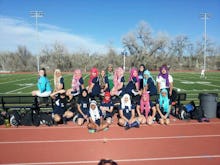 Earlier this month, FIFA lifted its ban on headscarves, allowing female Muslim players to wear hijabs while playing soccer. But that didn't stop high school soccer referees in Aurora, Colo. from prohibiting Samah Aidah to play with her head covered.
Last week in response, the Overland High School girls soccer team took an inspiring stand in support of their teammate and her freedom of religious expression by donning headscarves representative of Aidah's hijab.
With more than 40,000 retweets and favorites so far, teammate Divine Davis' photo of the team in headscarves is making a loud statement about equality. 
Last year, a high school flag football team in Florida similarly stood in solidarity with a team member who had been the victim of tauntings and racial slurs. But the team's tribute was only limited to pre-game warm-ups as the Florida High School Athletic Association has regulations on what can be worn during play as well.
If high school students understand the problem with a ban on hijabs during sports, it's about time their referees do, too. Since 2012 the Olympics, the penultimate platform of athletic competition, has relaxed clothing regulations, leading to a standing ovation for hijab-wearing Saudi runner Sarah Attar.
This new take on sports clothing will hopefully encourage more participation in sports for women and other members of religious communities for whom the clothing regulations may have been a barrier.
After all, inclusion and cooperation are exactly what team sports are all about. The girls soccer team at Overland High School seem to know exactly what it means to be a team.