10 New Contemporary Artists Challenging Everything We Knew About Art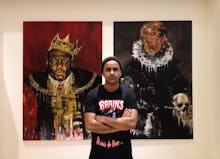 Like Fashion Week, the many art fairs that take place every spring give people the chance to see what some of the most innovative artists are working on. Historically, fairs like the Armory Show and the Whitney Biennial have helped artists, including Jackson Pollock, Georgia O'Keefe and Jeff Koons, rise to prominence. Armory Arts Week might be over, but there are more art fairs coming up, and they are a great place to discover new talent.
Though it is not easy to break into the art world in the current economy, many Millennial and Gen X artists are pushing themselves to explore innovative art forms in order to stand out. In our media-saturated world, artists need to push the envelope to get their message heard. These young artists are doing just that. They're working with traditional forms like painting and photography to convey and support nontraditional messages, and they're turning these messages into works that challenge preconceived definitions and command our attention.
1. Joseph Grazi, Mixed Media Artist
New York artist Joseph Grazi's work captures his fascination with juxtapositions — life and death, fear and comfort. His most recent work "Fear The Deep," exhibited recently at SCOPE, is a pertinent example. Grazi created a fiberglass cast of a small great white shark and painted colorful dots all over it, pairing what he fears the most with what he fears the least. Grazi often works in mixed media, and pushes us to think about our own fears and desires.
2. David Wiseman, Sculptor
Sculptor David Wiseman is inspired by the beauty of nature and creates delicate sculptures and decorative objects. Using traditional methods, he creates porcelain, bronze and crystal pieces modeled on tree branches, lotus petals, birds and other animals. He has created some impressive large-scale installations for the West Hollywood Library, Dior stores in New York City and Shanghai and the U.S. Embassy in Madrid. Wiseman's respect for traditional craftsmanship and modern aesthetic make an inspiring combination for young artists. His work reminds us to slow down and appreciate the beauty of nature, which — unlike his sculptures — is fleeting.
3. Amar Stewart, Painter
British artist Amar Stewart recently made headlines when thieves tried to steal three paintings from his solo show in Brooklyn. Stewart creates mash-ups of rappers and royalty that depict hip-hop greats like Jay Z, Notorious BIG, Tupac and Mary J. Blige in the guise of Dutch Old Master paintings. Frans Hals portraits in the Metropolitan Museum of Art inspired Stewart to create the unconventional paintings. While his work speaks to a generation that grew up listening to these artists, he has put his own spin on the portraits. 
4. Alex Prager, Photographer
Alex Prager's vivid, highly stylized photographs draw on a variety of references, from Golden Age Hollywood films and fashion advertising to everyday life. In her series Face in the Crowd, Prager directed hundreds of actors on set, specifying every last detail to get exactly the right shot. What really fascinates her though is the emotional impact of a crowd. She wanted to show two opposing perspectives at once: "being alone in a sea of anonymous faces, and also the other side of that, which is a sea of individuals who have had very different life experiences, and each person has their own story to tell." 
5. Daniel Arsham, Sculptor
One half of Snarkitecture, Daniel Arsham creates surreal sculptures that will make you look twice to figure out what's going on. Using materials like fiberglass and aqua resin, he molds static forms that seem to be moving: Figures look like they're walking out of a wall while wrapped in fabric, and a clock defies the laws of physics by speeding through the air or falling. Arsham's work encourages us to rethink our expectations about sculpture and push the boundaries of what's possible. 
6. JR, Street Artist & Photographer
French artist JR is known for his monumental street art installations that pop up all over the world. His ongoing Inside Out Project began in 2006 after the riots in the outskirts of Paris as a way to start a cross-cultural dialogue. By pasting enormous black and white portraits of people on city walls, sidewalks, construction barriers and even trains, JR makes a statement that anonymous people should be seen. He has brought attention to issues of inequality, discrimination, disenfranchisement and violence. JR's photo booth truck has been traveling the world, encouraging young people to paste photos of themselves around their city.
7. Sophia Wallace, Conceptual Artist
Conceptual artist Sophia Wallace is on a mission to increase Cliteracy. That's right: clit literacy. "Cliteracy is about not having one's body controlled or legislated," Wallace told the Huffington Post. "Not having access to the pleasure that is your birthright is a deeply political act," she said. To combat the problem, Wallace seeks to educate people through her art. Her monumental installation "100 Natural Laws of the Clit" is a compendium of phrases that address the misinformation perpetuated by science, history, politics, porn, medicine, religion, pop culture and visual culture. 
8. Vinz Feel Free, Street Artist
Spanish street artist Vinz Feel Free uses mixed media to create memorable collages with symbolic significance. Layering photographs of nude models on top of old newspapers, maps and other documents, he paints the heads of parrots, swans and other animals over them. Men in suits or police uniforms appear as reptiles and frogs. Vinz Feel Free borrows the symbolism from several religions — birds from the Bible, reptiles and frogs from the Mayas and the Aztecs. His street art addresses many societal issues, from criticizing repressive governments to satirizing ads in order to show that love and happiness are free.
9. Kurt Perschke, Conceptual Artist
The RedBall Project by Kurt Perschke brings joy. The concept is simple: Overnight, a giant red inflatable ball pops up in a public place, and passersby are free to interact with it. Though Perschke has noticed that viewers' level of engagement varies across cultures, the ball makes everyone smile. Perschke and his team move the ball from one neighborhood to another, to keep the public's interaction organic. The RedBall Project awakens the imagination in each of us, inviting us to engage with it and with the people around us. For Perschke, "The larger arc of the project is how each city responds to that invitation and, over time, what the developing story reveals about our individual and cultural imagination." Next up: Gallway, Ireland and Rennes, France.
10. Beau Stanton, Painter
Painter and muralist Beau Stanton combines elements from Victorian ephemera, antiquated machinery and letterpress elements to create works of art that put a modern spin on historic iconography. His work ranges from miniatures to enormous murals, like the one he did for the Bushwick Collective, a group of street artists brightening up the industrial Brooklyn neighborhood. His Industrial Divine mural looks like a huge stained glass window from a Gothic cathedral painted on the side of a rusty industrial building. Stanton's work invites us into our society's collective unconscious to explore the layers within and bring beauty to a place that was once plagued by violence.