Courtney Love Has Joined in on the Search for the Malaysia Airlines Flight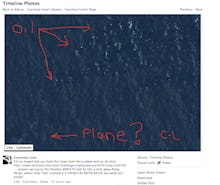 The search is still on for missing Malaysia Airlines Flight 370, and it looks like Courtney Love has joined the crowd-sourced search for the plane, which disappeared on March 8. 
The troubled rocker used Microsoft Paint to give her followers an idea of what she thought happened. Her guess is that the plane fell close to Pulau Perak, based on what she thinks looks like an "oil slick."
A total of 25 countries have now embarked on the search mission for the plane, which has been missing for nine days. A number of theories remain on the table, including that the plane crashed due to terrorism. Families of the missing 239 passengers have only grown more restless as the search continues to be fruitless.
As one commenter puts it: "swear to god if Courtney Love finds the f**king plane."