This Is the Moment a 107-Year-Old Syrian Refugee Is Finally Reunited With Her Family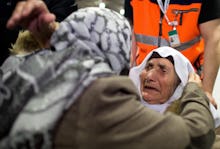 Seven months ago, 107-year-old Sabria Khalaf fled her home in Syria to escape the country's devastating conflict. After a nightmarish trek across Turkey and Greece, Khalaf has been finally reunited with her family in Germany. 
Khalaf, along with her son, endured the dangerous path that many Syrian refugees have taken in order to seek asylum from the European Union. That usually means going to Greece, where a different kind of nightmare waits for refugees.
To get to Greece from Turkey means crossing the river Evros, where border forces often times push Syrian refugees back into Turkey. It's a dangerous route, even for refugees much younger than Khalaf. 
One refugee, who made two attempts to enter Greece before finally making it in, told Amnesty International that he "feared the Greek police more than the Syrian military."
During his first attempt, his fellow passengers on an overcrowded boat were beaten by the Greek coastguard, before their boat was returned back to Turkey. Those that successfully manage to enter the country end up living in fear of being targeted by far-right groups like Golden Dawn. Greek authorities estimate 17,000 Syrian refugees in the country.
Khalaf, a member of Syria's Kurdish minority, is one of the lucky ones. After two months in Greece, she was given asylum after garnering the attention of a German lawmaker, who pushed the country's president Joachim Gauck to expedite the process on humanitarian grounds. She was greeted at the airport by 20 family members, including a newborn great-great-granddaughter.
The United Nations estimates 2 million Syrian refugees have fled the country in three years of the conflict, and warns that this number is likely to double by the end of the year. Germany has committed to taking in 10,000 refugees. 
The moment she's experienced – finally being reunited with her extended family after a treacherous ordeal – is one that every Syrian refugee deserves.