If You Had $1 Million, Here's What Size House You Could Buy in 39 U.S. Cities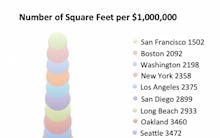 While you might know that America's metropolises are getting more and more expensive, do you know what the nation's most expensive city really is?
Well, in New York "the rent is too damn high" — last year, the average monthly rent for an apartment in New York City was $3,017 (excluding Staten Island) and the average purchase price was $1.425 million. But even at those sky-high prices, you might be getting more bang for you buck in New York than across the country over in San Francisco.
The center of the tech boom has far less real estate than New York, and it shows. According to the latest report by Slate, you will get the smallest number of square miles per $1 million in San Francisco; New York is in fourth place, behind Boston and Washington:
Image Credit: Slate
Slate calculated the data by looking at "the median price per square foot in each city." The price was $666 in San Francisco and only $12 in Detroit, which would be less than 1/55 of what you would pay in the Bay Area.
So just exactly why is San Francisco so expensive? The city center has been gentrified by Silicon Valley's well-to-do, making it increasingly difficult for lower-income households to live there. The peninsula has a limited amount of space and housing units, but 75,000 people have moved in to the city in the past decade, and population growth is reflected by the spike in real estate prices. In 2013 only 14% of the houses on sale were considered affordable for the middle class; this month, there isn't a single listing on the market that's below $220,000. And the median price has more than doubled since 2000:
Image Credit: Trulia
But while San Francisco's housing prices are incredibly high, New York City is still a top contender. Though the median price per square foot was $424 among the five boroughs, when you only consider Manhattan, it comes out to a jaw-dropping $1,538, or around 650 square feet per $1 million.
And what you can buy with $1 million in New York is far less than what you can buy in the rest of the world:
Image Credit: The Washington Post/Junk Charts
But places such as Hong Kong and Monaco have it even worse:
Image Credit: The Washington Post/Junk Charts