NYU Is Exploiting Workers in the UAE – Here's a Look Inside the Labor Camps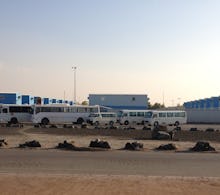 During my five-month study abroad experience at NYU Abu Dhabi in the fall of 2013, I often saw the rickety off-white buses traverse the city streets around 6 p.m. They were filled with migrant workers in iris-blue uniforms, resting their heads on open windows and gazing at the city they were building from scratch.
I knew those buses were transporting the men to labor camps far away from Abu Dhabi's gold-sprinkled cappuccinos and Gold-to-Go vending machines. One of those labor camps is called Al Dar. It is one of two camps that house more than 90% of the construction workers building NYU's new campus on Abu Dhabi's Saadiyat Island.
Image Credit: AP. A newly constructed housing village for workers on Saadiyat Island.
Late last December, the Guardian released a disturbing report revealing that 43 workers subcontracted to NYU were crammed in groups of nine to 10 in filthy, windowless rooms in the Musaffah industrial area of Abu Dhabi, trapped by recruitment agency fees in Bangladesh. According to the report, the fees exceeded a year's worth of salary and the cost of the most basic health care. Some workers with a monthly salary of $247 paid for their own work clothes, while others hung a sheet over their toilet for privacy.
The article went viral in the NYU community. Meanwhile, the university quietly informed students at NYU Abu Dhabi that the 43 workers from the Guardian report were moved to accommodation that met NYU's standards.
But students at the New York campus didn't get any answers. And as NYU students, we deserve them.
This wasn't the first time that NYU faced controversy in the process of building its new campus on Saadiyat Island. Back in 2011, a half-ton pillar crushed a man building on the campus and killed him.
Yet during my three-year tenure at NYU in Manhattan, I received very few statements from the university regarding conditions for their construction workers.
On a Friday afternoon in January, I visited the Al Dar labor camp because I wanted to see what was happening firsthand. I felt uninformed and troubled, and I wanted to see the living conditions of the men building the 15.4-hectare campus.
After riding past stretches of sand dunes in my taxi, I arrived at Al Dar. Behind a sign reading "Hospitality Village" are rows of monotonous, pastel-painted shipping containers that make up Al Dar's six compounds. NYU workers reside in Compounds One, Two and Four.
I met a construction worker for NYU on the outskirts of the camp. Gesturing to his home, he told me he lives in one room with three other men. I introduced myself using what little Hindi I knew and showed him my NYU ID. He told me his name and smiled gently. While shaking his calloused hand, I noticed he carried his belongings in a plastic bag. 
Outside the camp's Lifeline Clinic, I saw workers rummaging through heaps of trash collecting wilted green vegetables. A few feet away, inside the clinic's kitchen, bugs crawled on the counter. Scraps of naan and stale rice littered the tabletops.
I was also told by someone at the labor camp that employers cut salaries if workers seek medical care more than twice a month, and the maximum monthly salary for workers is 500 dirhams. Five hundred dirhams is equal to $136.13, or roughly $4.50 a day. A recent report from 7 DAYS in Dubai claims that one NYU worker hasn't been paid in over a year.
"Migrant workers in the UAE, like workers across the Gulf region, are subjected to systematic exploitation," said Nicholas McGeehan, a Gulf researcher at Human Rights Watch.
Migrant workers come to the UAE under the kefala system of sponsorship-based employment. Men pay exorbitant and illegal recruitment fees, are forbidden from leaving abusive employers and are victims of passport confiscation, McGeehan said. They're barred from joining trade unions and bargaining collectively for better pay and conditions. The justice system rarely provides workers with redress, he said, and as a result, employers frequently violate laws designed to protect workers.
"Although human trafficking is typically regarded as a crime of non-state actors, there is an argument to be made that the Gulf is the hub of a state-sanctioned trafficking network," McGeehan added.
Al Dar felt quite abandoned that afternoon. A few men walked along the camp's border, while others sat on rare patches of grass, eating out of plastic bags. Inside the clinic, it felt deserted too. One clinician tended to a limp worker with a swollen left calf, while another reclined in an office chair sound asleep. Outside the clinic, workers from Pakistan sat on rocks underneath the roof of the bus stop to seek shade because the porches of their shipping containers lack protection from the sun.
At 4:37 p.m. that Friday, I saw one of those white, rickety buses pull into the camp. Workers in iris-blue jumpsuits, neon-green vests and orange hard hats swarmed the bus stop. Above their sweaty foreheads, I spotted "New York University" stickers on their hard hats. According to a 2012 report from Human Rights Watch, NYU construction workers said Friday was their day off work.
In a report from 2009, Human Rights Watch documents labor violations within Saadiyat Island construction projects and raised their concerns with participating institutions. In response, NYU appointed the firm Mott MacDonald as its independent auditor in October 2010. In the firm's compliance reports from 2011 and 2012, Mott MacDonald found that the NYUAD project was taking workers' rights seriously.
Another Human Rights Watch report based off findings in 2011 and published in 2012 reveals that problems persisted. Issues cited with NYU include workers' access to passports, unclean bathroom facilities and a lack of locks to store personal belongings. Human Rights Watch notified NYU of the problems in February 2011 and gave the university one month to respond before the report was made public. NYU responded by updating their statement of labor values in March 2011. Later that month, a letter from NYU Abu Dhabi's former director of public affairs assured Human Rights Watch that the problems were rectified.
Yet if NYU is as committed as it claims to ensuring the safety and well-being of its workers, why was my experience visiting the camps so different? Why are there squalid facilities at Al Dar? Why are workers possibly paid less than $5 a day and penalized for seeking medical care, two practices that violate the labor standards the university claims to uphold?
According to NYU's statement of labor values, workers "will be paid wages and benefits which comply with all applicable UAE laws and regulations and which provide for their essential needs and living standards."
Yet there is no prescribed minimum wage in the UAE according to its labor laws, making it clear that NYU is merely trying to dodge this question, instead of solving it.
On Jan. 22, after weeks of research, I sent a list of questions to Greg Bruno, NYU Abu Dhabi's director of public affairs. I asked for verification of wages, confirmation that workers have lockboxes for safeguarding valuables and which day of the week workers are entitled to a day off work.
A month later, on Feb. 20, I received the following statement, which failed to answer most of my questions:
"Since the earliest days of NYU Abu Dhabi, we have committed to ensuring the health and safety of those building, maintaining and operating our campus. Our strict charter and associated publicly reported compliance regime are a direct result of the importance we place on the welfare of those building our new campus. We take seriously any incident that appears to be in violation of these commitments. Any and all such claims are investigated immediately, and where appropriate, are addressed promptly."
I cannot change the laws in the UAE. But as a student, I can speak up and challenge my institution and its neighbors that wish to stamp the university name abroad. Though not a dime of my tuition dollars is directly funding NYU Abu Dhabi, I am paying for my university's reputation, which is being harmed by these practices and the negative attention they've earned us. I walk around my home campus knowing that men in an Abu Dhabi labor camp, a place that NYU construction workers must call home, are carrying their belongings in plastic bags and scavenging through trash for food. I've lost respect for my university, but the men at Al Dar are paying a much higher price.
It is the responsibility of NYU and other universities to ensure the protection of human rights in their pursuits of global expansion. Academic institutions must consider the lives of the men who will build their classrooms.
They deserve better. They need to be treated like human beings.