What 8 Major World Cities Looked Like Before They Boomed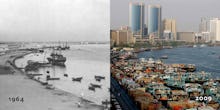 Not that long ago, Dubai was an unadorned desert.
Today it is one of the most popular travel destinations in the world, peppered with skyscrapers and astonishing development projects ranging from the Burj Khalifa to the World Islands, showing what a difference a decade or two can make.
It is also just one example of the incredible speeds with which cities around the world can change and grow into bustling metropolis, making them virtually unrecognizable in just a few decades. Whether it is the new explosive growth in Shanghai or rapid expansion in Mumbai, India, these mega-cities have blossomed into some of the fastest-growing cosmopolitan cities in the world. 
Here are a few before-and-after photographs of cities that have boomed in the past few years through remarkable urban transformation and development:
1. Seoul, South Korea
Once a major battleground in the Korean War, Seoul has undergone a remarkable transformation to become a cultural capital and an economic success story. South Korea is also the only country that has managed to go from being a recipient of development aid to being wealthy within a working life, due to its "export-oriented economy, massive population growth and expanded global cultural power."
The earlier photo shows South Korea's capital in 1980. Here's what it looked like in 2012:
Image Credit: Flickr/Malink_78
Now one of the world's largest urban areas, Seoul is home to massive real estate developments and major Korean firms like Samsung, Hyundai and LG, and is a leading manufacturer of automobiles, microchips and LCD panels.
2. Shanghai, China
China's rapid development is largely due to its move to relocate and urbanize millions of people from rural areas to cities, effectively transforming them from farmers to consumers.
"In 1949, when the People's Republic of China just established, the urbanization rate ... was 11%," said Tang Min, senior economic adviser to the State Council. "That's over 11% people living in the urban area. Now it's 52%. So there you can see the big change."
Twenty years ago the commercial district of Pudong was mostly farmland. Today the city has risen to dizzying heights with some of the most futuristic buildings in the world.
Here's what Shanghai looks like today:
Image Credit: Flickr/Remko Tanis
Now housing the second tallest skyscraper in the world, scheduled to be finished by the end of 2014, Shanghai is home to a population of 23.5 million people, the largest population by city in the world, which is still growing at a rate of almost 10% annually.
3. Singapore
According to The Economist, "[a] century-and-a-half serving the trading interests of [the British Empire] turned [Singapore] into a thriving port," making international business and trade an integral part of the city and its success.
"You will sense a vibe of growth, of energy, a sense of entrepreneurship and the desire and interest to create new and innovative products and services," said Gregory Wade, managing director at InflexionPoint Acquisition Corp in Singapore.
Here's what Singapore looks like today:
Image Credit: Flickr/Asian Development Bank
This cityscape now ranks No. 2 on the World Economic Forum's global competitiveness rankings. It is also one of the busiest ports in the world, as a leader in high-tech exports and an important gateway into the vibrant and fast-growing Asian market.
4. Sydney, Australia
As a major hub in the Asia-Pacific region, Sydney grew from a colonial port into a vibrant, multicultural metropolis, due to inter-governmental planning efforts and strategies to refashion its identity on a global scale. 
Here's what the cosmopolitan city looks like today:
After Sydney's successful 1993 bid to host the 2000 Summer Olympics, the city grew to become a leading financial and tourist destination in the Pacific Rim.
5. Dubai, UAE
From a few lone buildings in the desert to the epitome of opulence, progress and innovation, Dubai has dramatically transformed itself into one of the fastest-growing economies in the world, a major tourist destination and an important financial hub in the global arena with a few decades.
The earlier photo shows the UAE city in 1964. Here's what it looked like in 2009:
Image Credit: AP
This small fishing settlement embarked on an ambitious bid to become the "Manhattan of the Middle East" as a major trading hub and a regional leader through massive, multi-billion-dollar construction projects to bolster tourism and international business.
Despite major setbacks during the global financial crash, the city's vast oil reserves helped with its recovery and is now showing no signs of slowing down, especially after its successful bid to host the World Expo 2020.
6. Mumbai, India
India's rapid economic growth is especially seen in Mumbai, one of the largest mega-cities in India. Formerly known as Bombay, this island city was once a major colonial port and trade hub for the British Empire.
Here's what India's financial capital looks like today:
Image Credit: AP
Now the country's film and commercial capital, Mumbai is undergoing a massive expansion to deal with its breakneck population growth. The Indian government is currently working on building another new city within Mumbai to accommodate the city's current population of more than 20 million people.
India is expected to overtake China as the world's most populous country, with almost 1.6 billion people by 2026.
7. Istanbul, Turkey
After the political and economic instability of the 1990s, Turkey has risen as "one of the world's zippiest economies."
According to Euromonitor, Istanbul is set to become Europe's most populous city, overtaking both London and Moscow sometime between 2017 and 2018.
This is what Istanbul looked like in 2011:
Image Credit: AP
With Istanbul driving growth in the country's property market, Turkey's economy has grown at an average rate of 5.3% annually over the past decade, attracting migrants and tourists from all over the world to the expanding city.
8. Austin, Texas
"There was a time in the early 1990s when Austin, Texas, was the quintessential see-through city, with empty office towers downtown and vacant subdivisions meandering through the surrounding limestone hills," writes Forbes' Daniel Fisher. "No longer."
Here's what Austin looked like in 2011:
Image Credit: Flickr/Drew Kolb
Now ranked America's fastest growing city, the Austin metropolitan area has transformed into a major hub with the fastest job growth, third-fastest net migration rate and a thriving infrastructure and energy market.
UPDATED 3/21/2014