Here's What Russian Diplomats Think About Obama's Sanctions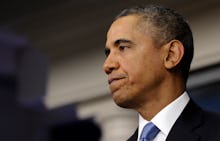 In case you've been MIA, Russians seem to be winning the battle over Crimea. In response to the fact that Russia won't back down on annexing Crimea from Ukraine, President Obama announced Monday that he's punishing 11 officials, seven from Russia, by freezing their assets in America and banning them from visiting the country. But the Russians who were targeted are either laughing at their sanctions or accusing the U.S. of being undemocratic.
Obama singled out Kremlin diplomats who have been "responsible for undermining the sovereignty, territorial integrity and government of Ukraine."
The list of punished politicians raises questions of whether all of them have been instrumental in Russia's policy in Ukraine. In fact, many experts think the sanctions are an excuse for the U.S. to air its dirty laundry with other Russian nationalist policies. But the important thing to know here is that the sanctions on individual politicians aren't threatening Russian policymakers. In fact, they're a breeding ground for jokes and anti-Americanism. Russian diplomats on the "black list" are all over social media brushing off their sanctions.
Here's what four Russian diplomats being sanctioned have said their names were announced on the list:
"I think some prankster prepared the draft of this [list by] the U.S. President)"* - Dmitry Rogozin, Russian Deputy Prime Minister of defense
Image Credit: AP
Dmitry Rogozin is particularly outspoken on his Twitter these days. In a tweet addressing Obama as "Comrade @BarackObama," Rogozin asked him to consider "what should do those who have neither accounts nor property abroad? Or U didn't think about it?)"
*The parenthesis at the end of both of Rogozin's tweets above are most likely representative of smiley emoticons, indicating sarcasm. Many Russians use parentheses without colons for eyes in order to indicate a smiling emoticon. Naturally the more parentheses in a row, the happier the emoticon. Take a look at Rogozin's tweet upon receiving notice that he was on the sanction list, with a double smiley for extra sarcastic emphasis:
"The only things that interest me in the U.S. are Tupac Shakur, Allen Ginsberg, and Jackson Pollock. I don't need a visa to access their work." - Vladislav Surkov, a Kremlin official whom Julia Ioffe at The New Republic called the "chief architect of Putinism."
Image Credit: Wikimedia Commons
Surkov's quote went viral because it reflects how little Russians think of Obama's sanctions. It also elicits a very specific mix of cultural pride and self-deprecation on the part of Americans, a mix that often helps a quote or link spread like wildfire on the Internet. 
Surkov also said getting a place on the list is like winning a "political Oscar." In his case, he said, he gets a nomination for Best Supporting Actor. 
Other diplomats on the list expressed serious concerns that America is trying to put pressure on them to change their stance on Ukraine, something they consider to be undemocratic. Valentina Matviyenko, chairman of the Federation Council and also on the list, called the sanctions "political blackmail," and "threats" meant to "scare" her into changing her position.
"I make of what's happening now as the deepest violation of my rights and freedom, as a citizen and a politician." - Yelena Mizulina, the main author of Russia's anti-gay propaganda law.
Image Credit: AP.
She also tweeted that her presence on the list is "revenge" for introducing policies unfavorable to the West.
The disdain these diplomats have for Obama's decision to freeze their assets in America and deny them entry into the country showed itself in jokes and harsh accusations of hypocrisy. Their social media presence illustrates just how little Russians in power will budge when it comes to Ukraine.